Many mothers breastfeed several times a day for their newborn baby. ​While breast pumping may be an occasional task for some, others use a breast pump frequently throughout the day or even exclusively. But breast pumps can be costly. Because of the Affordable Care Act (ACA), health insurance providers are required to provide coverage for breastfeeding support, counseling, and equipment. This means that most insurers will cover one breast pump per pregnancy (up to one year postpartum) as a preventive benefit.
Interested in learning more about how to get a breast pump through insurance? This guide will walk you through the process and answer some frequently asked questions you may have along the way.
How Do You Get a Breast Pump Through Insurance?
Aeroflow Breastpumps specializes in helping pregnant and nursing mothers receive maternity and postpartum recovery items through insurance – which includes breast pumps! Trying to contact your insurance provider for benefit verification takes time and can typically be a hassle. That's why we take care of it for you.
To find out more about your coverage, fill out our Qualify Through Insurance Form with your basic health insurance information. Once you've submitted all required information, we will verify your coverage and let you know via email or text the top-quality breast pumps (and other motherhood necessities – such as belly bands & compression socks to postpartum recovery garments and lactation education) you're eligible to receive through insurance.
In some cases, we are able to verify your information almost instantly, allowing you to select your breast pump the same day you submit the form. Other times, we may need to seek additional info from you or your insurance provider before we can curate your specific breast pump options.
Once you've reviewed your insurance-covered options and have placed your order, we'll contact your doctor for a prescription, handle all paperwork, file the insurance claim, and ship your breast pump through insurance as soon as possible!
How Does Insurance Pay for Breast Pumps?
As a Durable Medical Equipment (DME) provider, we work with your insurance company directly to lessen the stress and hassle of receiving a breast pump through insurance! This creates a smoother process for all involved.
Aeroflow Breastpumps has contracted rates with differing insurance policies that are considered to be "in network." Based on these agreements (which also follow certain insurance guidelines) we curate specific breast pump options that are covered through your individual plan!
We handle the entire process for you so that you don't have to worry! Once the pump arrives on your doorstep, we file the insurance claim and then any payment processed from the claim comes back to us so that you never see any type of bill from the insurance company.
What Breast Pumps Does Insurance Cover?
Every health insurance plan has a unique set of guidelines for breast pump coverage. If you have specific questions regarding your coverage and which breast pumps will be available to you at no cost, the best place to begin is our form. We work with most major health insurance providers, and can also provide a breast pump through most Medicaid plans.
Depending on your health care coverage, the following may vary:
Which breast pumps are covered (manual or electric) and by how much (some pumps can be fully-covered while others could require a small, out-of-pocket, upgrade fee).
How much coverage is provided (some insurances additionally cover pregnancy support, postpartum recovery, and lactation education).
When the breast pump can be shipped to you (before or after birth).
The duration of payment on rental pumps (which require medical necessity).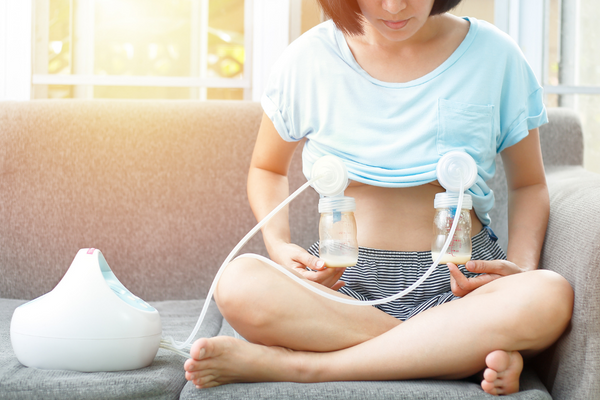 How Do You Get a Prescription for Your Breast Pump?
Prior to placing your order, you'll be asked for a breast pump prescription from your healthcare professional. This can be written by your OBGYN, primary care doctor, midwife, nurse practitioner, or if you've already given birth, by your baby's pediatrician.
If you do not have a prescription at the time of your order, no problem! You'll then provide us with your doctor's information so that we can coordinate retrieving the prescription on your behalf. We also make sure to keep you informed every step of the way.
When Will Your Breast Pump Be Shipped?
Unlike a traditional online shopping experience, your breast pump will ship at the earliest eligible date required by your health insurance. We must follow the timing criteria provided by your specific insurance plan.
Due to varying guidelines between providers, your pump may ship as soon as we have a prescription on file or it may not ship until 30 days prior to your due date (or in less common instances, proof of birth is required where your pump will then arrive just after you've had your baby).
But don't worry! No matter your specific coverage guidelines, we'll take care of the entire process – send you updates along the way, and let you know an expected ship date for your pump. As soon as we're able to ship your insurance-covered pump, it will ship free and straight to your door.
What if You Have a Grandfathered Insurance Plan?
While most commercial plans began implementing breast pump coverage in August 2012, in accordance with the Affordable Care Act, there are still a few exceptions to the rule.
The main exception to ACA coverage is the "grandfathered plan." Grandfathered plans may not provide the same rights and protections that other plans offer being compliant with the Affordable Care Act. You should be notified if your plan is grandfathered but if you're not sure, we recommend contacting your health plan's benefits administrator directly.
This also doesn't necessarily mean you are not eligible for a breast pump through insurance – you may still qualify! Fill out our quick insurance eligibility form to verify your breast pump & motherhood benefits through insurance.
When Should You Order a Breast Pump?
We've found that most mamas order a breast pump around week 30, but you can order your pump at any time during pregnancy. We recommend beginning the process prior to your third trimester, so that there is plenty of time to have everything squared away before your baby arrives.
Many parents are unaware of the fact that you're still eligible to apply for a breast pump through insurance up to one year postpartum under the Affordable Care Act. Though the exact period of eligibility depends on your particular insurance plan, the process through Aeroflow Breastpumps is exactly the same as it is for those who apply during pregnancy!
And if you purchased a breast pump before learning that you could receive one for free through insurance, there's good news! You are still eligible to apply for a free breast pump through insurance.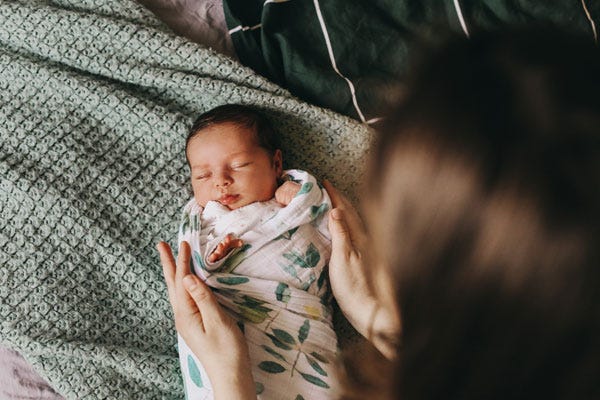 Will Insurance Cover a Second Breast Pump?
Nine times out of ten, insurers will only provide coverage for one breast pump per pregnancy. But note, even if you have secondary health insurance, you're only able to utilize your breast pump benefit through your primary insurance plan.
Because coverage extends to each pregnancy, we do not suggest using an old breast pump for your newest addition! If your old breast pump was kept clean, sanitized, safely stored, and new parts are purchased for its use, it has the potential to be reused. However, most pump motors only last for a certain amount of hours which may lead to less suction strength and less output.
Many moms find it beneficial to have a second breast pump and will pay for a secondary pump out-of-pocket. A second breast pump can be used for different needs such as travel (where you may want a pump that's small and portable), for work (hands-free pump options are great here), or even as a back-up in the event that something happens to your primary pump.
Should You Register for Your Breast Pump?
If you have health insurance coverage, we do not recommend adding a breast pump to your registry as they can be very expensive. Because the Affordable Care Act requires insurance companies to cover the cost of a breast pump, you should absolutely take advantage of this benefit.
Can a Breast Pump Through Insurance Be Returned?
Unfortunately, because of the medical nature of a breast pump, most retailers will not accept returns. However, all Aeroflow Breastpumps pumps are warrantied through the manufacturer. If you experience any issues with your breast pump, we recommend reaching out to them directly, as they will be able to help you with troubleshooting!
Additional Questions and More Information
Health insurance coverage can be complex and confusing. Our goal is to make it as easy & stress-free as possible while providing you with the very best insurance-covered options! Submit our insurance eligibility form today and let us do the rest. If you still have any questions, check out our frequently asked questions guide or give us a call at 844-867-9890. We're always happy to help!
Information provided in blogs should not be used as a substitute for medical care or consultation.