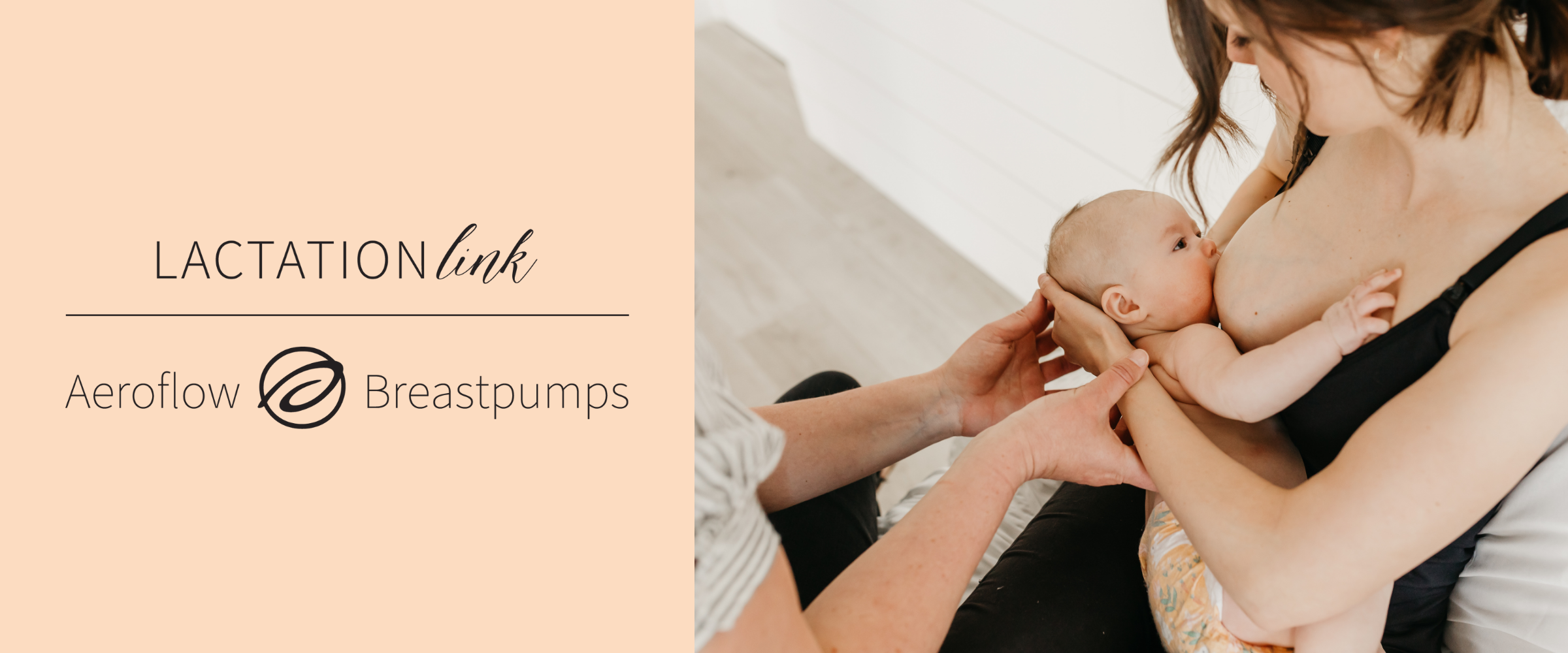 Aeroflow Breastpumps is excited to be partnering with Lactation Link – the leader in lactation education and support.
Lactation Link by Aeroflow Breastpumps
For over ten years, Aeroflow Breastpumps has been the leader in providing quality breast pumps and motherhood items through insurance. We pride ourselves on a seamless process that leaves our patients saying, "that was easy!"
We are now thrilled to extend our services to include lactation support and education in partnership with our friends at Lactation Link. Together we're offering a curated concierge service of lactation content, online classes, expert consultations and support.
No more stumbling around in the dark or wondering who you can trust. Whether you're pregnant and preparing for those early weeks of breastfeeding or in the thick of it postpartum, we've got you covered. Lactation Link has helped thousands of families reach their unique goals and through our partnership together, we're determined to support you through every step of your breastfeeding and pumping journey!
Lactation Link
Lactation Link is a group of International Board Certified Lactation Consultants (IBCLCs) that are all about 'Creating Confident Families' when it comes to breastfeeding & pumping! We don't just teach how to breastfeed, we give families the confidence to set their own breastfeeding goals and the ability to reach them on their own terms. Lactation Link caters specifically to the current generation of parents in a fun, relatable, inclusive, and easy-to-digest way. We're here to help you prepare before your baby even arrives and we're here to support you through the early weeks of breastfeeding – from introducing solids, all the way to weaning.
What Does Lactation Link Do?
Inside our courses (live & on-demand options) you'll find easy-to-understand concepts and real-life tutorials featuring breastfeeding families that are all broken down into bite-sized, searchable snippets. Within our members' support platform, you'll have access to office hours and live Q&As with our IBCLC experts, as well as the ability to connect with thousands of other parents going through the same things you are! We also offer virtual one on one appointments where we provide safe, accurate recommendations based on your health history and specific situation.
Creating Confident Families
Our IBCLC Team
International Board Certified Lactation Consultants (IBCLCs) are the gold standard when it comes to lactation education and support. Our team, of over 30 IBCLCs, is here to support you with a wide array of experience and credible knowledge that the IBCLC credential represents.

The group & individualized care we offer helps to keep your breastfeeding goals at the forefront, whether you plan to breastfeed for two weeks, two years, or more. We're here to support YOU!
How We Guide & Prepare You During Pregnancy:
Relatable and easy-to-digest content delivered straight to your inbox that's specific to your stage of pregnancy.
A guided sneak-peek into what's to expect in the early days and how to manage those first few weeks.
Clarity on what supplies you need before the baby comes (and what you don't) – with easy ways to get the right breast pump, milk storage bags, and more through insurance.
Learning inside our popular online courses at just the right time for you:

Childbirth Prep + Breastfeeding
Babycare + Breastfeeding
Breastfeeding Basics
Pumping 101
Navigating Maternity Leave
And more!

Plus additional opportunities for virtual one on ones with our trusted experts where they will provide specific care and work with you to create a prenatal plan.
How We Continue To Educate & Support During Postpartum:
Deliver tips about common postpartum issues such as adequate diaper output, proper latch, and best nursing positions to ensure baby is thriving and hitting milestones.
Virtual IBCLC appointments at our recommended intervals or anytime you have specific questions or need reassurance (think proactive rather than reactive care).
We offer a library of course content via an app – where you can get quick answers to your specific questions.
Check in on your emotional health as it relates to postpartum transitions and managing your new roles.
Receive expert answers you can trust to the most important questions like, "can I drink coffee and breastfeed?"
Choose from a variety of live course offerings specific to the postpartum period:

Returning to Work
Breastfeeding + BabyWearing
Introducing Solids
Plus more!
Breastfeeding is natural but it doesn't always come naturally. It's a learned behavior between mom and baby. Trying to learn to breastfeed in one night after birth is like trying to master a sport in one day... Ditch the stress and let us equip you with a plan A, a plan B, and support for whatever hurdles may arise. Because let's be honest, babies are unpredictable! Whether it's your first or your fifth, come on in. You're in the right place. We can't wait to welcome you into our courses, support forums, and community to help you have more joy and less worry surrounding your unique breastfeeding journey!