Have you ever been told that you may have a pregnancy pooch, baby belly, or post-baby belly after you give birth? It takes time for your entire body, and especially your stomach, to fully recover from pregnancy. Right after delivery, you may still look and feel five or six months pregnant.
While your uterus takes approximately 2-3 weeks to shrink back to where it's not visible (and a full 6 weeks to its original pre-pregnancy size), your abdominal muscles may take MUCH longer to heal and start to feel normal again. Imagine your uterus and abdominal muscles as a balloon that slowly inflates as your baby grows inside you. When you give birth, your balloon doesn't pop, it just starts a very slow leak. For that reason, the decrease you see in your stomach area may be slow-going, but it will be steady!
Postpartum Recovery Garments
Once you understand how the body starts to heal, you may also wonder if there are ways to expedite the healing process. Many women hear conflicting opinions on "waist trainers" from friends and family, and may need additional insight in order to make the best decision for their personal recovery. A few common questions among new moms are:
"What is the difference between a waist trainer and a postpartum compression garment?"

"Isn't a postpartum compression garment just the same as Spanx?"
Let's set the record straight, waist trainers/corsets/SPANX and medical-grade postpartum compression garments are NOT the same! They are actually very different and provide very different benefits.
Often, terms like SPANX, Waist Trainers, Belly Wraps, Corsets and Shapewear are used interchangeably, making it difficult to make an educated purchase decision. Let's go over a few of these common terms, and talk about the benefits of a medical-grade postpartum compression garment, which may be helpful for you after you have a baby!
SPANX:
SPANX are non-medical, lightweight garments that help to control trouble areas (such as your abdomen, thighs and/or bottom) and make your silhouette look slim. They can be worn at any time during your life, and don't provide any medical benefits, purely cosmetic.
Waist Trainer:
A waist trainer is a high-compression, also non-medical, shaping garment that you can wear around your abdomen to contour your waistline instantly. Many women wear them for a few hours at a time daily to slowly "train their waists" to become smaller. These can also be worn during exercise as well, as most stimulate thermal activity. This makes you sweat more with less effort (aka, it makes you work harder during your workout).
Waist trainers can be dangerous, especially in the immediate postpartum period. These compression devices can be worn so tight that you may experience nausea, headaches, trouble breathing, and/or dizziness. It's also unclear if these "waist trainers" actually work.
Corset:
Corsets are similar to waist trainers, but they simply have lacing in the back, that can be adjusted for tightening/loosening. Also non-medical, corsets may also be worn on the outside of clothing for stylish reasons. Corsets are not meant to be worn during exercise or in an attempt to slim your waist on a long-term basis.
Belly Band/Maternity Belt:
Belly Bands and/or Maternity Belts are worn DURING pregnancy to assist with shifting baby weight off the abdomen, hips and lower back to support the body's core. They can also help with sciatica pain, and help relieve the pressure that causes pregnancy-related pain or discomfort. They are typically made with breathable fabric and provide a discreet fit. You may even qualify to receive these through insurance!
Medical-Grade Postpartum Compression Garments
Now, let's talk about medical-grade postpartum compression garments and the benefits they can have for a speedy recovery after birth!
Postpartum Compression Garments are medical-grade compression garments that are made with breathable, lightweight fabric and provide a discreet fit. They provide the extra support needed to tighten the areas most affected by pregnancy, and require a prescription from your provider to obtain.
Health benefits of these garments include:
Speeds up postpartum recovery time.
Gentle compression to reduce swelling (edema).
Gentle support panels to stabilize the abdomen.
Relieves conditions like pelvic girdle pain.
Supports lower back and hips for improved posture.
Tightens and tones belly, hips, waist, pelvis, and lower back.
C-Section Compression Garment aids wound healing after a C-Section birth.
Postpartum compression garments may look SIMILAR to SPANX and/or other shapewear, but they are NOT the same. These garments have been specifically designed by healthcare professionals to provide real health benefits to postpartum moms.
These garments can be worn any time between one week to four months postpartum, and they are designed to easily and discreetly be worn under clothing, and are made with breathable fabric for ultimate comfort.
Did you know that these types of compression garments can be covered by your insurance? Talk to your provider if you think they are right for you!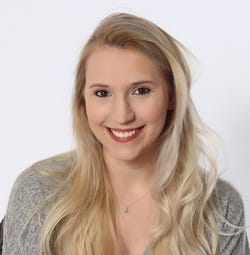 About the Author
Liesel Teen is a Labor & Delivery Nurse and mom of a sweet two-year-old boy. Her work and more helpful advice about pregnancy and birth can be found on her site: https://mommylabornurse.com/.
Information provided in blogs should not be used as a substitute for medical care or consultation.