Let's face it mamas: breastfeeding isn't always easy, but boy is it worth it. We know the benefits of breastfeeding, and know that you as a mama want best for your child, which means you might suffer from soreness, pain, blocked ducts, engorgement, and mastitis – all for that little person getting breast milk.
Lansinoh Therapearl for quick relief
To help with the pain that may accompany breastfeeding, the company Lansinoh is here to help, continually creating products that provide moms comfort and success in breastfeeding, like the Lansinoh TheraPearl 3-in-1 Breast Therapy Packs. What's so great about this little product? How will it help you, you might wonder?
They conform to you
These round bead packs are shaped to conform around your breasts – with these packs you no longer need to worry about forcing a towel or freezer pack around your breast looking for comfort. These purple beauties are meant for your breasts and rest perfectly around them to provide 360 degree comfort, whether you're looking for help when you're pumping or looking for comfort from breast pain.
You can use them hot or cold
With a texture similar to bagged peas, you can easily freeze a Therapearl pack and place it directly on your breast to relieve discomfort caused by engorgement or mastitis, as the pack will conform around your breast to ease pain after being placed in the freezer for two hours.
The pack will then provide relief from swelling and pain. For warm relief, simply microwave the Therapearl pack and place at the breast to relieve pain from mastitis or blocked ducts, as it will conform to your breast to ease discomfort.
Help you achieve let-down
If you're looking for help achieving let-down while pumping, Lansinoh TheraPearl packs will help you there as well! Once you've microwaved your Therapearl therapy pack, you can place the warm pack around your breast shield when pumping to better achieve let-down. The packs can be used safely for twenty-minute intervals, can be cleaned with soap and water, and works with any breast pump.
Works with any model breast pump
That's right – this product will work with any breast pump, so don't miss out even if you have a different brand than Lansinoh! This simple but oh so useful product will allow you reusable comfort for your breasts with the use of hot or cold therapy and can help you achieve let-down when pumping! Convinced yet? Don't miss out and hop over to our store to get your Lansinoh TheraPearl packs today.
Information provided in blogs should not be used as a substitute for medical care or consultation.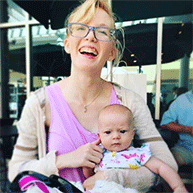 About the Author
I am 24 years old, married to my high-school sweetheart, and have a daughter named Kara who was born in March 2018! I went to Mars Hill University for my undergraduate degree in English and creative writing, and my daughter is my inspiration for everything I do. I want to help parents everywhere to be successful in their journeys, and to love what they do.