How Exciting! You've found out your insurance will cover a free double electric breast pump and now it's time to choose one from your list of fully covered options. There are so many options to choose from, how do you narrow it down? You could spend a lot of time and energy researching breast pumps on the Internet or going through reviews in mommy groups only to find yourself more confused, or you could trust the dedicated breast pump specialists at Aeroflow Breastpumps when they tell you, go with Lansinoh!
Lansinoh's Smartpump + App
Aeroflow Breastpumps is proud to announce that we now carry the Bluetooth-enabled Lansinoh® Smartpump™! Mommies across the country are raving about the new Smartpump, which combines modern technology with impressive pumping power. One of the most unique and remarkable features of the Lansinoh Smartpump is that it can connect to your Apple or Android phone via Bluetooth using the Lansinoh Baby™ app.
Did we mention the app is free? All you have to do to get started is download the app and scan the code at the bottom of your pump. Once you turn the pump on, your pumping sessions are automatically recorded with a time and date stamp so you can easily keep track of them.
Track feeding, bottles, and diapers all in one place
The app also allows you to keep track of breastfeeding session, and one of the best features is that it will even keep track of which breast you fed on last! With a million things on your mind, you may not remember if you fed on your right or left breast last. If you're also bottle feeding expressed milk, don't worry, the Lansinoh baby app will help you keep up with remembering when you last gave your little one a bottle too! It may seem crazy that you could forget these details, but you would be surprised just how easy it is to forget something when you're sleep deprived, so let the Lansinoh Baby app do it all for you!
The "diaper diary" might just be the coolest part of the app. The app will help you keep track of wet and dirty diapers, which will come in handy when you're at those first few pediatrician visits and your doctor asks how many wet diapers your baby is having a day. Plus, wet diapers are a sign that your newborn is getting enough to eat; when you're just starting to nurse, many mothers find themselves questioning if their baby is getting enough to eat. The Lansinoh Baby app can help you monitor feedings for your little angel, and help you relax knowing that you are tracking your little one's progress every step of the way.
Still deciding on a breast pump?
When trying to decide which breast pump is perfect for you and your new family, be sure to check out the new Lansinoh Smartpump and the Lansinoh Baby app. Not only is the Smartpump the only pump on the market currently to have 3 pumping styles and 8 adjustable suction levels, it's also a closed system, which equals not having to worry about mold or bacteria in your tubing or motor. Plus, that means you don't have to clean the tubing — one less thing to have to worry about cleaning can make any mama happy. No matter what pump you use, you can still take advantage of the Lansinoh Baby app. The app will help you keep track of all the little things you don't have time to write down in a journal…from feedings to dirty diapers and more! All you need is your pump and your smartphone, and technology will take care of the rest! Happy Pumping!
Information provided in blogs should not be used as a substitute for medical care or consultation.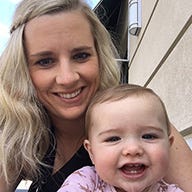 My name is Alli Turner and I am 28 years old. I live in Charlotte, NC and went to NC State University. Go Wolfpack! I am also a first time mom to baby Harper Estelle.