Whoever said "don't cry over spilled milk" clearly wasn't a breastfeeding mom! Your time is precious, and you spend a lot of it connected to a pump, so wasting milk or dealing with contamination can be frustrating. That's why it's important to choose the best breast milk storage bags to properly express and store milk without any spills or bacteria.
Milk Storage Bags Through Insurance
Did you know your insurance may cover storage bags at no cost? That means you could receive milk storage bags, like these Motif milk storage bags, along with your breastpump based on your insurance coverage guidelines! The number of bags and frequency will also be determined by insurance guidelines.
Simply fill out the eligibility form with your information and we'll automatically let you know what your insurance covers! If you are eligible for milk storage bags, you will receive bags with your insurance covered pump and/or breast pump supplies. You can also reach out to Aeroflow Breastpumps via chat, phone, or by directly responding to the email from your Specialist to request storage bags and our team can verify your eligibility!
Choosing the Best Breast Milk Storage Bags
When it comes to choosing the best breast milk storage bag, there are a few key factors new moms should keep in mind. For example, you want a high-quality, sturdy bag that won't burst or leak. Plus, it should be made from food-grade, BPA-free plastic. A storage bag should also be functional with the ability to stand on its own for pouring, lay flat and be compact for storage, and provide space for measurements and clear labeling. This way your milk can be easily stored and organized.
Just as a quick reminder, the CDC's breast milk storage guidelines for freshly pumped breast milk say that it is safe for the following amount of time:
Four hours at room temperature

Four days in the fridge

Up to 12 months in the freezer
---
Medela Pump & Save Breast Milk Bags
Medela Pump and Save Breast Milk Bags with Adapter provide a convenient, time-saving storage method for freshly expressed breast milk. They come with two easy-to-connect adaptors that can be used to pump directly into the bags or for easier pouring. The zipper creates an airtight seal to keep your breast milk fresh with an oxygen barrier to protect and preserve all the nutrients in your liquid gold. These Medela breast milk storage bags can be laid down for space-saving storage, but also have a stand-up bottom to remain upright on their own! They also have room at the top for easy labeling!


Benefits for Mom
No-leak zipper

Oxygen barrier to preserve nutrients

No-spill stand-up bottom

Pump and pour adaptor

BPA free

Space for labeling

Includes measurement lines
What Do Moms Say?
"So simple and easy to use. Lifesaver!" – Galen B.
"These have made my life 10x easier. I love not having to pour my milk into the bag after I pump." – Shauna
"I love having the ability to pump right into a bag. Makes it hassle-free and saves time." – Rikki B.
---
Motif Medical Easy Pour Breast Milk Storage Bags
Motif Easy Pour Breast Milk Storage Bags are designed to make storing milk as simple as possible without any messes. The easy pour spout makes it easy to transfer milk, plus these bags are compatible with any bottle. Don't worry about spills; the double zipper lock is leakproof! Easily label your milk at the top and conveniently store your milk in the fridge with its standalone design or lay them down in the freezer. Plus, with the ability to store up to 8 ounces of milk, Motif bags allow you to store more in a single bag!


Benefits for Mom
Easy-pour spout

Double zipper lock

Self-standing

BPA free

Stores 8 oz

Compatible with any bottle

Space for labeling

Includes measurement lines
What Do Moms Say?
"I love these bags because of the easy tear and pour! So easy to use and store and keep things clean." – Amanda
"These bags are great! They come with a spout to pour from which is a neat feature. I've never had any issues with spills or leaks. Will continue to use!" – Emily
"I like how they are able to stand, so when looking for dates it's easy. Also, the fact that it has a tear-off so you can pour is amazing! With other bags, I would end up spilling some of my liquid gold opening them from the top. Highly recommend!" – Yahaira G.
---
Lansinoh Breast Milk Storage Bags & Adaptors
Lansinoh Breast Milk Storage Bags come with an adapter to pump directly into the bags! You will need the pump adapter to pump into the bags if you use a Medela, Evenflo, or Ameda. You will not need the adapter if you use a Spectra or Lansinoh pump. These bags are incredibly durable with a labeling tab at the top to prevent puncturing them as you write. The Click 'n' Secure closure features a double zipper seal to prevent leaks and spills. Lansinoh bags can be laid flat for easy storage.


Benefits for Mom
Includes pump adaptors for direct pumping

Pour spout

BPA & BPS free

Puncture-safe labeling tab

Includes measurement lines

Double Click 'n' Secure seal

Can lay flat

Tamper-evident tear-away top
What Do Moms Say?
"These bags really save space in the freezer and help organize my milk supply. My two complaints are that when you pour into the bag, you need to know the amount you are pouring in from the start because the measurements aren't accurate on the bags since they compress so easily. Also, they are kind of difficult to pour in and out of. But they are definitely worth it!" – Marina V.
"Durable, freeze and unfreeze fast." – Earlene G.
"Holds up to 6 ounces per bag with room to freeze, never had any sealing/leaking issues. Gets the job done and affordable compared to other brands of similar quality." – Sophia P.
---
Kiinde Twist Pouches
Lansinoh Breast Milk Storage Bags come with an adapter to pump directly into the bags! You will need the pump adapter to pump into the bags if you use a Medela, Evenflo, or Ameda. You will not need the adapter if you use a Spectra or Lansinoh pump. These bags are incredibly durable with a labeling tab at the top to prevent puncturing them as you write. The Click 'n' Secure closure features a double zipper seal to prevent leaks and spills. Lansinoh bags can be laid flat for easy storage.


Benefits for Mom
Can be used for feedings

Recyclable BPA, PVC, and phthalate-free

Labeling surface

Includes measurement lines

Twist-lock onto pumps from all major brands, for leak-free, transfer-free pumping, directly into the pouch

Self-standing

Snaps into the Kiinde Squeeze Natural Feeding Bottle
What Do Moms Say?
"The best storage bags, even better than the Nuk. Nuk storage bags are high on my list, but they are flimsy and a pain to unload without splashing the milk all over. For this reason, I love Twiist. They are more expensive, for sure, but to me they are worth it. The construction is superb. They never leak. Freeze well. Markings are accurate and clear to read. They hold shape allowing them to be stored upright on a fridge shelf. I pump straight into them, with a correct pump attachment, so they save me loads of time eliminating the need to wash bottles, pour milk from bottles to bags, etc. I highly recommend even if you don't use the Kiinde system." – Sasha C.
"I love these storage bags! So easy to just pump straight into them and attach it to the bottle. Bonus that I can just throw it away after a feeding f and can avoid having to wash another bottle!" – Shailor H.
"I have used Kiind and Tommy Tippee storage bags. These bags have thicker plastic and the seams are sealed well. The adapters fit nicely. Storage bags that fit directly onto the pump are massively convenient for the sessions where I know I'm pumping for my freezer stash. If I am pumping for daycare or bottles at home I pump directly into bottles. The only thing I don't like about the Kiind bags is that there is no marking between the ounce/ml volume markings so you just have to eyeball how much you think is in the bag (e.g. 3.5 vs. 3.8oz is hard to tell), but trying to guess amounts in storage bags always has some margin of error. The bags stand up, which is awesome!! Just don't stand them up without a cap on for too long and accidentally knock over/spill your milk!! The bags are recyclable and single-use." – Stephanie
---
Spectra Disposable Milk Bags
Have confidence that your milk will stay fresh with the Spectra Disposable Milk Bags. They are double-lined to prevent leaks and zip closed for a tight seal. They're self-standing with a compact design that is perfect for storage. Use the measurement scale to instantly see how much milk the bag contains to know exactly how much you're feeding your baby!


Benefits for Mom
BPA free

Double-lined

Self-standing

Zip top for a tight seal

Includes measurement lines
What Do Moms Say?
"I like how these bags are sealed and sterile until you open them. Make sure the bottom of the bag is fully open to let the milk get all the way to the bottom to get an accurate amount of how much is in the bag." – Erin D.
"These are great! They sit up on their own and they have a temperature gage on them. I would highly recommend!" – Erin D.
"Affordable price, fast shipping! Love the product." – Vidisha S.
---
Evenflo Advanced Breast Milk Storage Bags
Evenflo Advanced Milk Storage Bags are made of durable military-grade material and are 30% thinner, which makes freezing and thawing faster, saving you some extra time. Evenflo bags are self-standing and can lay flat for quick and easy storage. The labeling tab is at the top for puncture-free writing and you can use the easy-pour spout to instantly transfer milk without losing a single drop.


Benefits for Mom
Self-standing

Pour spout

Made of durable yet 30% thinner material to reduce waste

Has a quicker freeze/thaw time

SafeZip dual-track zipper seal

Puncture-free label

Includes measurement lines
What Do Moms Say?
"I used these bags over the course of a few weeks. Upon receipt, I thought that the material was very thin and would prove to be weak; however, I was wrong. The bag material was deceptively strong and withstood a couple of drops, as well as cross-country travel. I enjoyed the encouraging message on the side of the bag and appreciated the ability to pump directly in the bag with an adapter to my pump. I do wish that there was some method of signaling the bag is completely sealed. Maybe a change in color of the seal similar to regular plastic bags." – MomofT2
"I really like this bags. I've been using them for a while now and I love the ease of use, the soft plastic and the encouragement notes on them. They are very cute!" - Cecibryan
"I have used a variety of milk storage bags. Some are very thick, some are very flimsy, some are tough to poor or don't freeze flat. Recently, I went on a trip and had to freeze all my milk and fly home with it. I used these bags and had a great experience! They freeze quickly – in a little tiny hotel fridge freezer! They stayed frozen in a cooler for 8 hours traveling home, and now using them is a breeze. They are very easy to thaw and the spout makes it a piece of cake to transfer to a bottle! I only wish they were a bit sturdier when standing in their own." – Sunshine2151
---
Why Do I Need Breast Milk Storage Bags?

You don't need breastmilk storage bags, but if you're using a breast pump, they certainly help when it comes to conveniently storing your breastmilk. Breast milk can not be frozen in bottles but can be frozen in breast milk storage bags, allowing you to build a long-lasting supply of milk for your baby.
Because the bags can stand up or be laid flat, they often take up less space than awkwardly shaped bottles and are less prone to leaking or breaking. This protects your milk and prevents contamination. It also allows your milk to freeze and thaw more quickly, saving time. Plus, breast milk bags are pre-sterilized and disposable, so no clean-up is involved after use! Note: these bags are not reusable.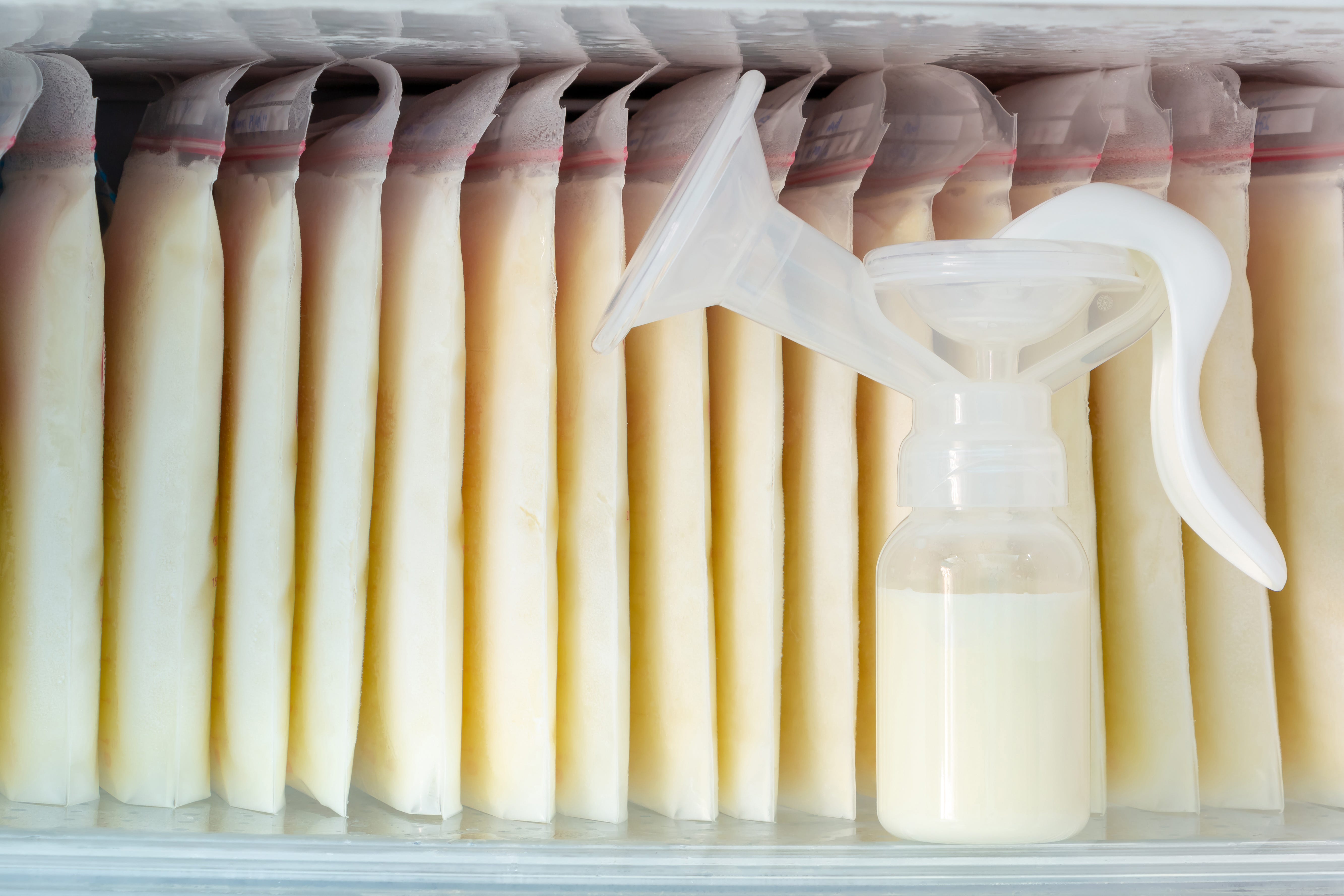 Why Should I Store Breast Milk?
Storing breast milk can allow you to stop breast pumping early because you'll have a stockpile to provide for your baby. This supply is great for busy moms who don't have the means to pump at work. It also allows your partner to assist with feeding your little one and leaves breast milk for caregivers if you have some errands to run or have a date night planned.
How To Store Breast Milk
In the Fridge:
When storing breast milk in the refrigerator, be sure to store it as soon as possible.

You can add cooled breast milk to the storage containers over time, but do not add body temperature milk.

Place your milk at the back of the fridge, at the coldest part.

Keep it away from the door where the temperature may vary.
In the Freezer:
Only use containers that are BPA-free and are specifically designed for storing breast milk.

Freeze breast milk by placing it in the freezer as soon as possible after pumping.

Expressed breast milk may be added to frozen milk if it has been cooled in the refrigerator first. Do not add room temperature milk to frozen breast milk.

Don't fill your bags over 3/4 full, as breast milk will expand as it freezes.

Place your milk at the back of the freezer where the temperature remains the most consistent.

Avoid placing your breast milk by the freezer door where it may thaw due to varying temperatures.

Storage tip: Lay bags flat in the freezer. Once they're frozen, you can store multiple bags of frozen milk together in a gallon freezer bag to save space.

How to Thaw Frozen Breast Milk
To thaw frozen breast milk, start by:
Place the frozen breast milk in the refrigerator to defrost for about 12 hours.

You can also hold your frozen breast milk bag under warm running water. Note: Remember to use 'warm' water, not hot water.

Do not leave frozen breast milk out to thaw at room temperature.

After being thawed, frozen breast milk can be kept at room temperature for 2 hours and in the fridge for 24 hours. Then it must be discarded. Do not refreeze thawed breast milk.

Do not thaw frozen breast milk in the microwave or boiling water. It could create hot spots that burn your baby and break down the milk's nutritional properties.

Why Do Breast Milk Containers Need To Be BPA Free?
BPA is Bisphenol A, a chemical used to harden plastics, prevent rust, and keep bacteria out of food. However, BPA products may have a high amount of chemicals that can seep into the food or liquid, contaminating it. That's why BPA is banned in the manufacturing of a number of baby products.
Studies suggest the BPA is harmful to animals, but more research needs to be done to determine its effect on humans. However, it may affect the body's endocrine system and mimic the hormone estrogen. This can disrupt the body's hormonal balance, especially during developmental stages. Because babies are in a crucial development stage, BPA should be avoided so their development is not disrupted.