Exercising during pregnancy can help women boost energy, combat aches and pains, and build stamina in preparation for labor and delivery. For most people, it is safe to continue moderate exercise throughout pregnancy, though pregnant women should always check with their healthcare provider prior to starting a new regimen. For healthy pregnant women, the American College of Obstetricians and Gynecologists recommends 30 minutes of moderate exercise on all or most days throughout pregnancy. The most effective way to ensure you get enough exercise is to stick with something you enjoy; it will make it much easier to stay on track.
For those who love running, there may be some questions about continuing to run during pregnancy. After all, your center of gravity will be shifting and there is added pressure on your pelvic floor, not to mention your bladder. You may be wondering how all this will affect your running practice, and that's why we've reached out to six running experts to weigh in. All are experienced, accomplished runners and moms. Each has been faced with the unique challenge of deciding how to adjust her running habit to accommodate a growing bump.
Their responses underscore the importance of listening to your body, communicating with your healthcare provider, and going easy on yourself. Pregnancy is not the time to push yourself to new limits.
It's clear that with some simple modifications, the added support provided by compression, and of course the approval of a healthcare provider, pregnant women with a passion for running can continue to do so. We find these expert tips on running during pregnancy both informative and empowering. We hope you do as well!
Whitney Heins, Founder of The Mother Runners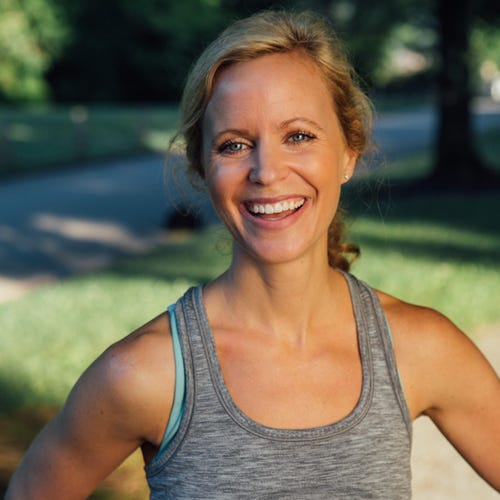 I was lucky enough to be able to run throughout both my pregnancies up until the days I went into labor. What helped me was: getting guidelines from my doctor that reduced my mileage and limited my pace to a conversational one, planning pit stops along the way, drinking Gatorade to quell morning sickness, investing in a pregnancy support band for added support, listening to my body, stopping running if it felt uncomfortable, and having grace. If something doesn't feel good, stop doing it and tell your doctor. This is not the time to push through pain.
The comfort zone is the place to be when growing a human. Keep it easy. You'll get it back. Your body is built to run and it's built to have babies. It's going to be changing and doing what it needs to bring a human into the world. Don't stress about gaining weight or missing runs. It's adapting to this major change and it will adapt again after you have your precious baby.
Find out more about Whitney Heins at The Mother Runners and at @themotherrunners on Instagram, Facebook, and Pinterest.
Sarah Canney, Athlete and Founder of Rise. Run. Retreat.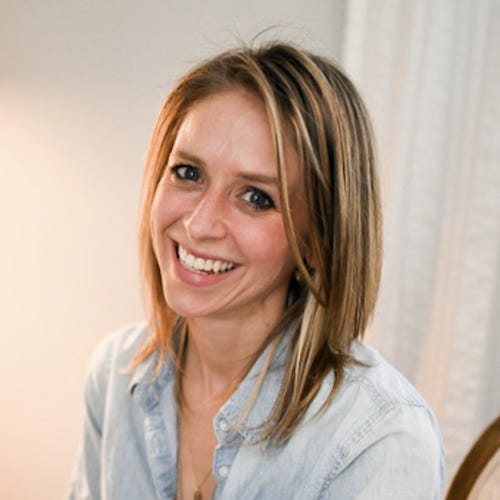 I highly recommend that any pregnant runner invests in seeing a pelvic floor specialist prior to running during pregnancy. They will be able to guide you with the latest research as you run through your pregnancy and return to running postpartum.
More than anything, I urge a conservative approach, be informed, and always have grace for yourself. I overdid it in my second pregnancy and suffered a prolapse, prolonging my return to running, which is why I think it is so wise to be more cautious. Running will always be there for you, there's no need to push yourself during pregnancy.
Find out more about Sarah Canney and Rise. Run. Retreat. by visiting her website.
Laura Norris, Professional Running Coach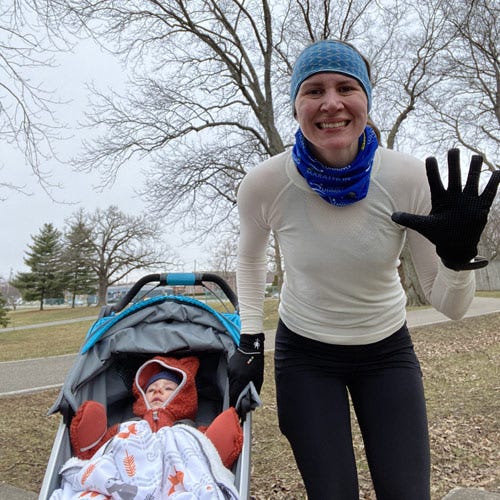 I recommend three things for runners who wish to run throughout their pregnancy:
invest in a belly band
strength train, especially core, lower body, and pelvic floor exercises
focus on time and effort instead of pace and distance.
Start using your belly band once you begin to show. A band reduces discomfort (including round ligament pain) and takes pressure off your bladder. It can also help prevent issues such as pubis symphysis disorder and diastasis recti.
Strength training will help you run throughout your pregnancy – and have a smoother comeback postpartum. As you gain weight, a stronger body will make running easier and prevent risk of injuries from changes in your gait. Pregnancy-safe core work and pelvic floor exercises will help avoid issues such as diastasis recti and pelvic floor dysfunction.
Always adjust strength training as appropriate for your fitness. If you did not strength train prior to pregnancy, you want to opt for bodyweight exercises. If you lifted weights before, you can continue to do so as long as you are comfortable. Beneficial exercises for pregnant runners include squats, elevated push-ups, side planks, clamshells, bird dogs, and glute bridges. If you see your stomach cone, stop the exercise.
Finally, focus on time and effort. At some point, you will slow down due to the physiological changes and you will have to scale back mileage. I recommend running based on time and using your breathing rate to gauge your effort. Ignore distance and pace. For example, instead of running 5 miles at 9:00/mile pace, run for 45 minutes at a sustainable effort. You may find that walk breaks are helpful also, especially in the final trimester.
Find out more about Laura Norris by visiting her website.
Tina Muir, Founder of Running for Real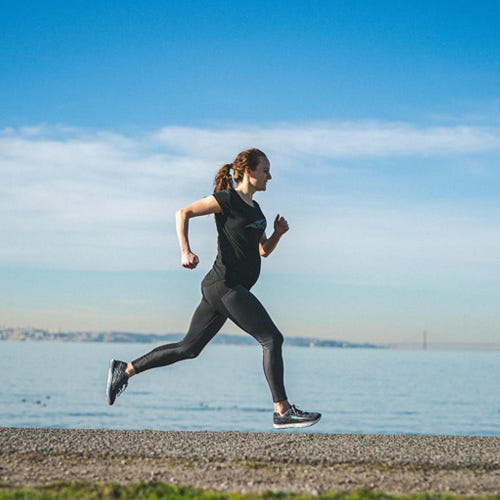 We are often told,"listen to your body" when it comes to exercise and how much to do, but during pregnancy, this becomes more important than ever. Exercise during pregnancy has many great benefits for mother and baby, but running is pretty tough on the body, meaning it is important to pay attention. There will be days you feel good (well, good for pregnancy, running didn't feel "easy" my entire pregnancy!), and you can run close to what an ideal running day would be.
There will be other days when you head out the door, and five minutes later, turn around and go back in the house because something doesn't feel right. This is not a time to push through and hope for the best. That doesn't mean your running days are over for pregnancy, but today, running is not for you. Take a few days off, then try again.
Don't be afraid to take lots of walk breaks either, if that helps your body to handle running, especially in the third trimester. Pace should not matter at all during this time, it is all about getting outside to exercise, and appreciating whatever your body can handle that day.
To find out more, check out Tina Muir's pregnancy guide for runners.
Neely Gracey, Professional Runner for Adidas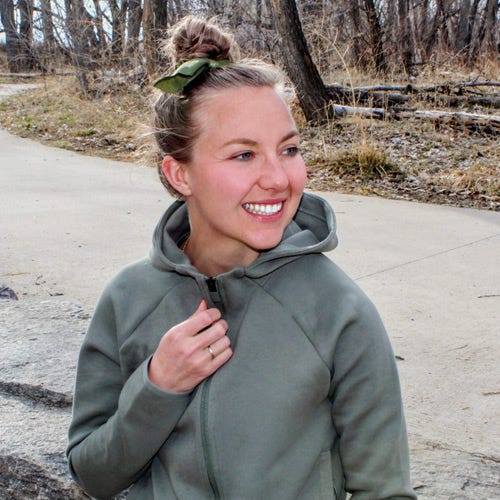 A healthy and active pregnancy is a goal for many mamas. And in most cases (be sure to check with your doctor), running throughout pregnancy is a great way to do this. I spent five years racing as a professional runner before getting pregnant. When I started to research training while pregnant/training postpartum, I realized how very little information and support is available on those topics. It is important to remember that everyone is different, which means there is no one right way to go about this. However, there are a few tips I wish to pass along that may be helpful and applicable to most mother runners.
Learn to take it one day at a time, be flexible, and adjust your plan based on how you feel that day.
It is important now, more than ever, to stay well hydrated and fueled before/after runs.
Consider investing in a prenatal/postnatal pelvic floor strength program to best support your body before and after childbirth.
Wear a belly support band before you think you need it.
Don't be afraid to walk/run, take rest days, or cross-train for lesser impact.
Find out more about Neely by visiting her website and at @neelysgracey on Instagram.
Teal Burrell, Elite Marathoner and Health and Science Writer
I think the most important thing is the oft-repeated advice to listen to your body. Some days will be easier than others and at some point in pregnancy (the beginning of the third trimester for many) it may just be too uncomfortable to run. It's great for both you and the baby to get some exercise, so keep running if you can, but don't worry if that turns into run/walking or eventually just walking. Any exercise is great!
Remember that your body is working really hard all the time anyway, so you're likely not losing as much fitness as you assume. A belly band can help redistribute the weight and take some pressure off your lower back. Possibly most crucially, scope out some places to pee on your route or do short loops near your house, because you will need to pee more than ever! But be sure to stay hydrated!