When I first found out I was pregnant with my oldest daughter, I immediately knew I wanted to breastfeed – but I had NO idea how, what I needed, or where to go. As a military spouse, I knew I would need to find a breast pump provider who was contracted with Tricare, and thankfully, a friend recommended Aeroflow Breastpumps.
Aeroflow works hand in hand with Tricare, and in addition to providing brand name, double-electric breast pumps that are fully covered through insurance, my Breastpump Specialist informed me that my insurance would also cover additional pump supplies after I gave birth, such as:
new tubing
locking ring
bottles and bottle caps
breast shields/splash protectors
Military life is not easy, but knowing that I'd be eligible to receive a pump and pumping supplies without the hassle of working through my insurer made my pregnancies and postpartum so much better. If you also have Tricare, here's what to expect:
Step 1: Submit the Qualify Through Insurance form.
Step 2: Aeroflow verifies your insurance and sends an email that will allow you to view your selection of covered pumps and place an order.
Step 3: Your Breastpump Specialist will follow up if they need any additional information or answer any questions you may have about the process.
Step 4: If a prescription is needed, they'll reach out to your doctor directly to coordinate.
Step 5: Your breast pump ships straight to your door and Aeroflow files the claim with your insurance provider!
And the thing I love the most is how personal their process is. A real person emailed me directly, called me if they needed additional information, and they were so prompt.
After your baby is born, it's important to replace pump parts regularly to reduce the build-up of bacteria and mold and to keep your pump working at maximum capacity.
Recently, when I was pregnant with my second baby, I found out that they now also help moms qualify for compression and support garments (like pregnancy support, compression socks and postpartum recovery garments) through insurance, too. I was able to get ALL of these things at no cost to me – and thank goodness, because pregnancy was harder this time around chasing after a toddler!
For more information on breast pump coverage for military families, check out this summary of Tricare Insurance Guidelines.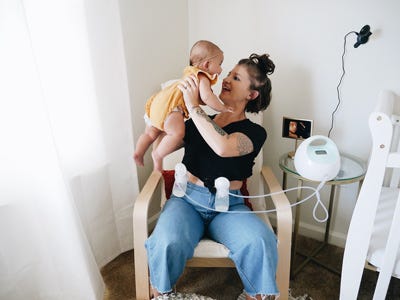 About the Author
Mackenzie is a military spouse, mom of two under two, and a hospice social worker. Originally from Cincinnati, Ohio and currently living in the Florida panhandle. Mackenzie and her family love to share their everyday life and things that they find that make life easier, over at @featuringthefulchers on Instagram.
Information provided in blogs should not be used as a substitute for medical care or consultation.