Tricare Insurance Guidelines cover a breast pump, breast pump supplies, and maternity compression.. But what does that process look like? And what are the specific stipulations of your policy? We have the answers to all your questions!
What we need to qualify you for a Tricare breast pump:
A little bit of info — head over to our Qualify Through Insurance form and get started today! Once submitted online, we can quickly confirm your benefits.
When asked for your "Primary insurance info", we need either the Tricare Sponsor's social security number or the Tricare DOD Benefits Number in order to verify that your plan is active and primary.
A prescription for the breast pump from a Tricare authorized provider (Nurse practitioner, MD, nurse midwife, etc). If you do not have a prescription yet, your Breastpump Specialist will be happy to send a request to your Tricare-registered healthcare practitioner!>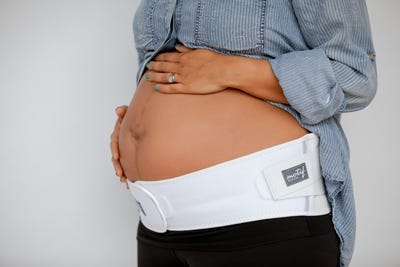 Tricare Maternity Compression Coverage
Aside from covering your breast pump through insurance, Tricare also provides coverage for maternity compression garments. These are medical devices that have been designed by healthcare professionals to provide support, relief, and stabilization for increased comfort during pregnancy and to assist with postpartum healing.
Most policyholders with Tricare qualify to receive maternity support bands (also known as belly bands), compression socks, and postpartum recovery garments through insurance. But unless you are an active duty Tricare Prime member, compression garments through insurance are subject to deductible and coinsurance.
To apply for maternity compression garments now, visit our Compression Qualify Through Insurance form!
Tricare Covered Hospital Grade Breast Pumps
Tricare covers the rental of electric hospital-grade breast pumps and supplies only under medical necessity. This benefit may be available to those who are separated from their baby due to illness or are unable to feed directly from the breast for medical reasons.
If mom or baby do meet the criteria of medical necessity, we can provide the hospital-grade rental for the period of time prescribed by the physician. Once the rental period is over, mom is then covered for a personal use electric pump that is hers to keep!
Tricare Covered Breast Pump Replacement Parts
In addition to covering a brand name, double-electric breast pump, Tricare will also cover additional pump supplies. Regularly replacing these supplies can help extend the life of your breast pump. Tricare will cover the following items after you give birth:
Standard power adapters
Tubing and tubing adaptors
Locking rings
Bottles and bottle caps
Breast shields/splash protectors
Exclusions
Tricare does NOT cover the items listed below.
Breast pump batteries, battery-powered adapters, and battery packs
Regular "baby bottles" (Bottles not specific to pump operation), including associated nipples, caps, and lids
Travel bags and other similar carrying accessories
Breast pump cleaning supplies
Baby weight scales
Garments and other products that allow hands-free pump operation
Ice packs, labels, labeling lids, and other similar products
Nursing bras, bra pads, breast shells, and other similar products
Over-the-counter creams, ointments, and other products that relieve breastfeeding related symptoms or conditions of the breasts or nipples
They are available for purchase on our shop page. If you have a Health Savings account (HSA), it can be used to purchase these accessories as well.