Traveling solo with my 4-week old baby strapped to my body in a Boba wrap was a little stressful before I even got to the security checkpoint. So imagine how nervous I was walking up to that scary line feeling like I had 8 thousand things in my hands, a bag full of weird items and a sleeping baby on my chest with no way of reaching my shoes to take them off. I had no idea if I was going to have to unwrap my baby, empty my bag, take off my shoes, etc.
When I got to the front of the line, the Charleston, South Carolina TSA had me put my pumping bag on the belt (I'm sure I was sweating at this point) and the man simply asked, "All the normal mom stuff? Breast milk…formula…pump?" I was so surprised! I actually answered no because I wasn't traveling with any breast milk because I had NO IDEA that was even an option. I skipped the line for the machine where they check your body for stuff and was able to walk through and only have my hands swabbed, never even waking my baby. I did still have to take off my shoes though which was interesting and even worse putting them back on. Other than that it was simple! I could have easily packed a cooler full of breast milk unbeknownst to me.
TSA Rules and Regulations
So what exactly is the deal with TSA and pumping and breastfeeding moms? Looks like the post 9/11 rule, the 3-1- 1 rule, that all passengers are allowed 3.4-ounce bottles of liquids in a 1-quart size, clear plastic bag – doesn't apply to breast milk. Yes! One less thing to worry about as I carry my infant through a super crowded and never long enough, Atlanta connection. Although it's permitted, here are a few things to remember to make getting through TSA easier.
You are allowed to travel with as much breast milk as you would like in any size containers. You are also not required to have your baby with you to travel with the milk.
Tips for Going Through TSA Security
Tell the agent at the beginning of the screening that you have breast milk in your carry-on. This will ensure that they screen it properly.
Make sure that any ice packs are frozen solid so that slushy ice isn't subject to further inspection or confiscation. (One alternative is to use foam packs. They are TSA-friendly and also stay cold longer than gel or water ice packs).
Your breast pump is a medical device – meaning it does not count as a carry-on item. Your cooler, however, WILL count as a carry-on item if it is separate.
Keep in mind that not all TSA agents or gate agents may remember these exceptions because they are in a hurry or not trained properly. Many moms have found it helpful to travel with a screenshot of the TSA or airline's policy on breast milk as a friendly reminder to employees who are giving you trouble.
Make sure to check the TSA website before traveling for the most up-to-date information.
Information provided in blogs should not be used as a substitute for medical care or consultation.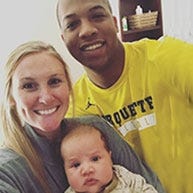 About the Author
Hi! My name is Janel Littlejohn, I'm 29 years old, and I grew up in Sharpsville, Indiana. Prior to Aeroflow, I have worked in higher education as an adjunct professor, assistant athletic director and women's basketball coach. I married my husband, Corey in September 2016 and we welcomed our first baby into the world in September 2017! His name is Winnfield Thomas (Winn) and I am loving being a new mom!