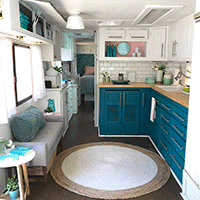 Pumpspotting and Aeroflow Breastpumps have partnered on The Breast Express, a 40-foot pump suite that traveled coast to coast in 2018 to celebrate women who nurse and pump, and motivate communities to drive awareness, garner support and celebrate a world where Mamas thrive.
The RV is fully equipped with pumping equipment, relaxing nursing chairs, water and snacks to make mothers feel comfortable and will travel over 10,000 miles, stopping at more than 28 cities, surprising and delighting mothers along the way. There is also a "Find Your Flow" station that allows Moms to check out four different breast pumps.
"I designed pumpspotting to unite breastfeeding women and to build a community of support. What better way to further our goal and understand how to serve moms who nurse and pump than by bringing together different communities nationwide?" said pumpspotting founder Amy Van Haren. "Our hope is that this journey sparks a movement and together, we can change perceptions, places, and ultimately, the percentage of women who meet their breastfeeding goals."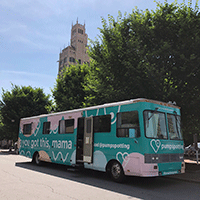 The Breast Express launched Saturday, April 27th in Boston at the MIT Make the Breast Pump Not Suck Hackathon and will end during World Breastfeeding Week, August 8th, 2018 in San Francisco. Aeroflow Breastpumps also welcomed The Breast Express to their hometown of Asheville, North Carolina on June 7 -9, 2018.
Asheville activities included "Surprise and Delight" stops at various locations in addition to the main event on June 8 from 10am - 2pm in Pack Square, which featured milk mocktails, a nursing and pumping suite where Moms talked to lactation experts, and information on how they could qualify for an insurance covered breast pump. There was also a panel discussion "Breastfeeding and Pumping in the Workplace. What Employers and Employees Need To Know," held on Thursday, June 7 at Highland Brewing. Local employers and families were encouraged to attend for this informative discussion, as well as have the chance to ask questions.
"Supporting moms on their breastfeeding journey is core to who we are as a company," said Jennifer Jordan, Director of Mom & Baby at Aeroflow Breastpumps. "When we learned about The Pumpspotting Tour, and understood that they shared this same commitment, we knew we had to be a part of it."
Information provided in blogs should not be used as a substitute for medical care or consultation.