Planning for all the last-minute breastfeeding must-haves before your little one arrives? We've put together a list of the essential breast pumping accessories (other than your breast pump) that you'll need to get started.
Bottles are great for immediate feeding, but milk storage bags allow you to properly and conveniently store breast milk to build a long-lasting supply for your baby. Milk storage bags are also ideal because they require less space in your freezer, and they're protective and much less prone to leaking or breaking – which keeps your precious liquid gold free of contamination and bad bacteria! Not to mention, they're pre-sterilized and disposable to save you time.
Leaks happen! Most pumping mamas will experience an unexpected letdown or leak at some point in their breastfeeding journey. Disposable or washable nursing pads fit snugly inside your bra or nursing tank for super discreet protection. If you plan to breastfeed, go ahead and stock up before you need them!
Breastfeeding can be challenging, but the last thing any new mom wants is for it to be painful! Temporary nipple pain and discomfort can happen for a variety of reasons. Luckily, a lot of pain can be relieved simply with skin therapy solutions that contain all-natural ingredients to nourish the skin. Nipple shields are also very effective for managing nipple pain. The shield can help with latching issues, inverted or flat nipples, and problems with overactive letdown.
4. Essentials Kits
Not sure where to start? We've curated essentials kits that are specifically designed to provide pumping moms with everything they need to begin their breastfeeding and pumping journey!
• Motif Luna Pumping Essentials Kit
This kit contains 40 easy-pour breastmilk storage bags, 2 milk collection containers with locking rings and lids, and a car adapter for travel.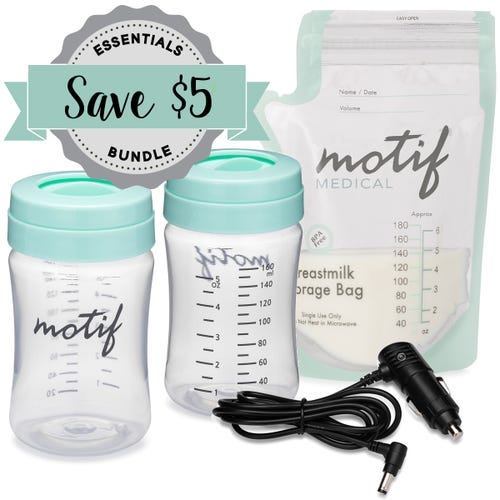 • Medela Pumping Essentials Kit
The Medela kit includes 50 milk storage bags, a set of 6 milk collection and storage bottles, 6 reusable Quick Clean micro-steam bags, and 24 Quick Clean breast pump and accessories cleaning wipes.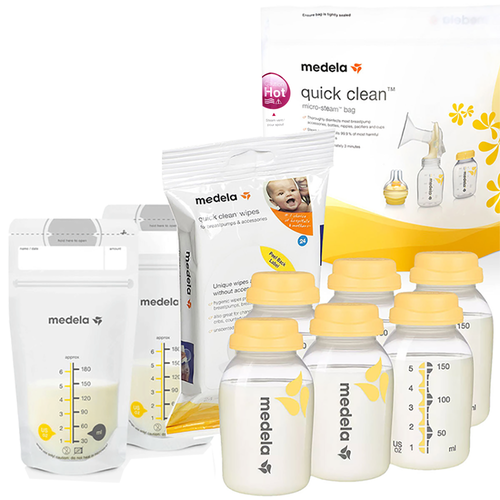 • Spectra Pumping Essentials Kit
The Spectra kit includes 30 breast milk storage bags, a set of 2 wide neck milk collection containers, and 2 small-cap bottle converters.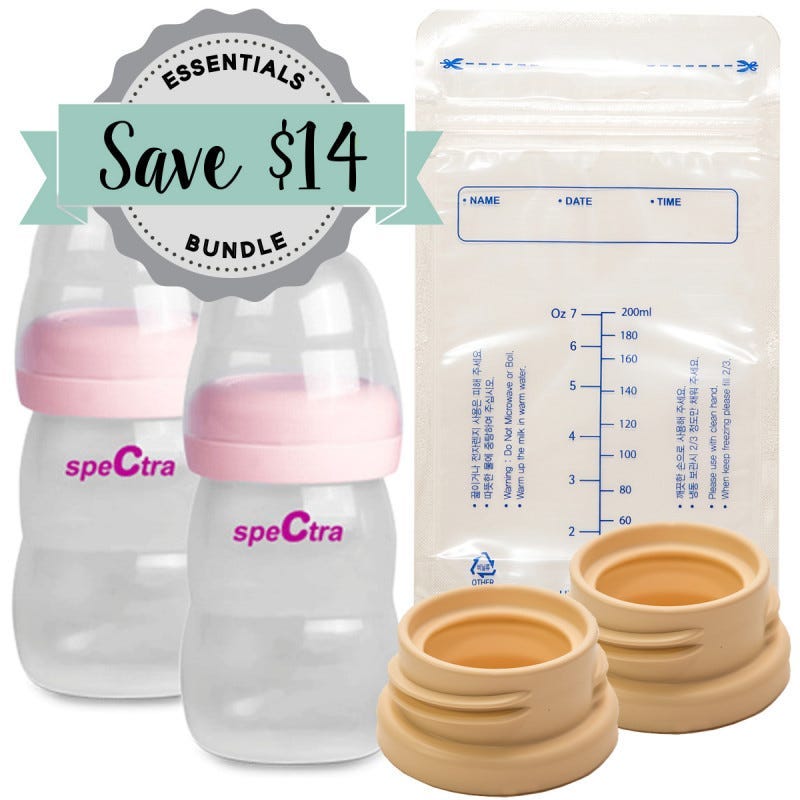 Carrying an electric breast pump, bottles, batteries, a power adapter, and any additional pump parts and supplies for breastfeeding can be a lot to handle. That's why we recommend using a spacious breast pump bag to tote all of your necessities in! You can also use it to carry around your cooler bag and ice pack to safely transport your breast milk, and it can also be used as a diaper bag.
When you're unable to multitask, pumping quickly starts to feel like a full-time job! Hands-free nursing bras are designed to save you time and help you pump while simultaneously accomplishing other daily tasks. These soft and comfortable undergarments use a cotton/elastic element that lets you directly attach your breast shields to make each pumping session quick and efficient. Setting aside the time to pump can be challenging in itself, but hands-free pumping bras are a great solution for busy, on-the-go breastfeeding moms.
To shop our full selection of pumping accessories and supplies, follow the button below!
Information provided in blogs should not be used as a substitute for medical care or consultation.