Cesareans account for about 32% of all births in the United States each year. Though many are planned, there are many that are unplanned or performed in an emergency, which means that mom may not have been fully prepared for her postpartum recovery process. As with any form of birth, cesarean delivery comes with its own set of considerations for recovery. Guidance and support for postpartum recovery are notoriously minimal in the United States, and c-section recovery is no different. Recovering from any abdominal surgery is difficult, and bringing a new baby home at the same time means mom has very little time to rest and recover as she otherwise would. All of these factors play a role in how moms heal, and ultimately how she feels in her postpartum body.
A cesarean section is a surgical procedure that can be an amazing, essential, and even life-saving delivery option, and in many cases, they improve the safety and wellbeing of women and babies. With the right tools in your recovery kit, you can protect your incision site wound, encourage healing, and minimize your scar tissue with a simple bandage system as you navigate life with a newborn.
The Motif Medical C-Section Bandage System consists of a series of wound care items for your lower abdomen that are used in succession based on where you are in the wound healing process following this major surgery. This system is based on established wound healing timelines and infection prevention, with an eye to keeping you comfortable as you tend to your incision and move around with your baby.
Regardless of how you are bandaging and protecting your incision, you should also be aware of the signs and symptoms of infection. Up to 10% of c-section incisions become infected, and sometimes this is due to factors beyond our control. That means that even if you are extremely diligent in caring for your incision and keeping it clean, you still need to know what an infection might look like and call your physician immediately if you have any concerns.
Signs of infection in a c-section incision:
Fever, chills, body aches

Redness along or near the incision

Increased swelling along or near the incision

Increased pain near the incision

Pus or foul-smelling discharge from the incision

Hardening of the skin around the incision
If any of these signs or symptoms appear in the days to weeks after a c-section, call your physician immediately or head to an urgent care center near you. It's important not to wait too long, as infections can spread quickly. The Motif C-Section Bandage System has been designed to limit your risk of developing an infection in your c-section incision, but there are still many other ways that an infection could develop. Keep a close eye on your incision throughout the healing process, and don't hesitate to ask for guidance from your healthcare provider if you have any concerns.
The Motif C-Section Bandage System is available in 3 steps. Each step includes several bandages, so take a good look at your incision and monitor for signs of infection or issues with healing as you change them each day. Steps 1 and 2 are recommended for early recovery and are often covered by insurance (check your coverage through Aeroflow Breastpumps). Step 3 is intended for use after the wound is completely closed. We'll look at why these bandages are helpful in the next section.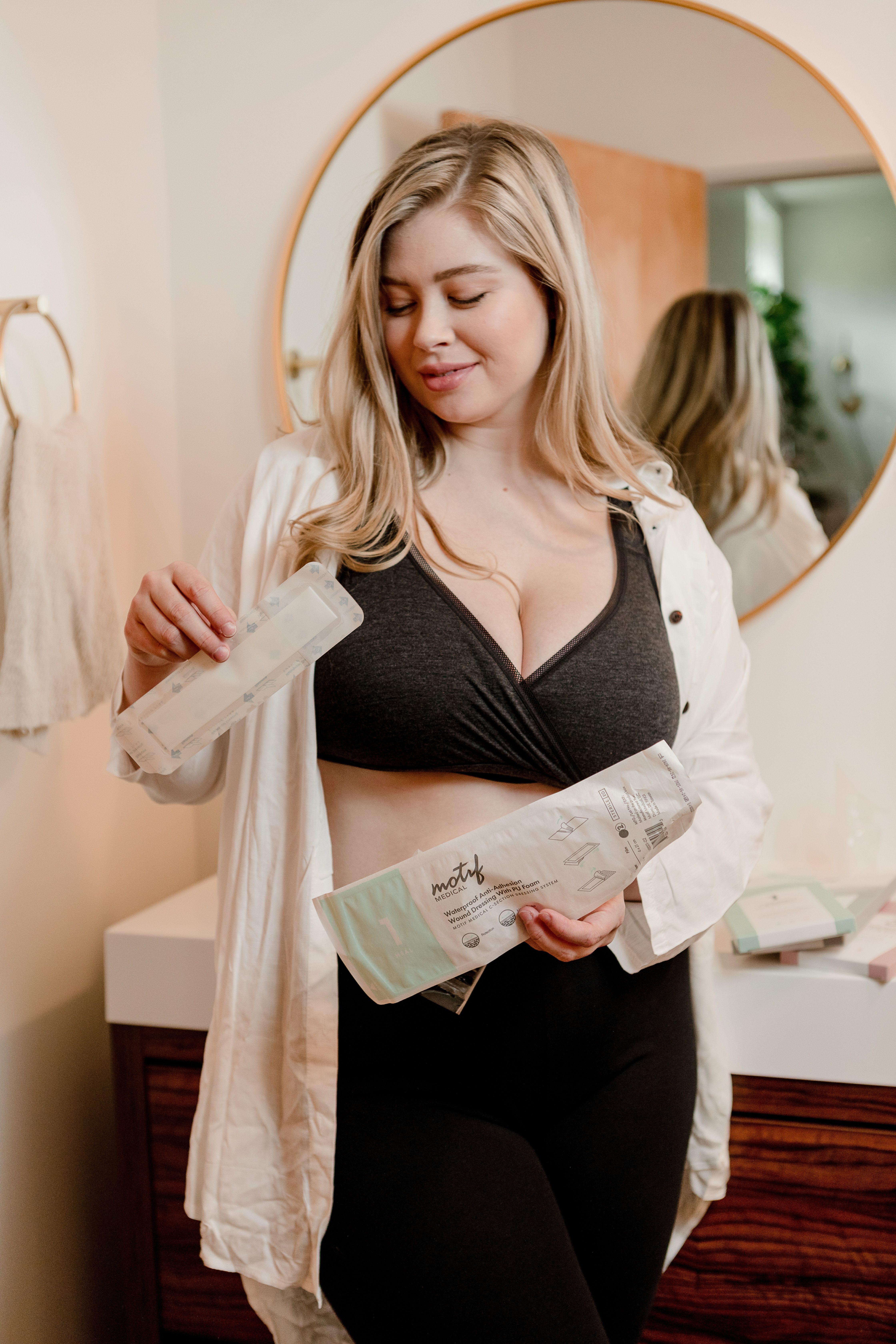 Step One: Heal
Have you ever tried breastfeeding right after a c-section? Where do those little feet go? That's right. Right on top of the incision! Needless to say, a comfortable, supportive, and secure bandage is a game-changer for those early days.
These bandages are built to limit bacteria entering the incision and promote healing. They are waterproof, breathable, sterile, and allow you to tend to your daily tasks with a protective layer that will not slip, rub, or stretch too much as your incision closes. It is made with polyurethane foam inside the waterproof layer, which helps to absorb any exudate (clear liquid) from the wound and promote faster healing. It's also anti-adhesive, which allows for comfortable and easy removal.
Step one is intended for use directly over your incision, so speak to your healthcare provider to be sure it's right for you in the early stages of healing. If you have staples or steri-strips over your incision, you may need to wait until they come off before applying.
It is recommended to change your step one bandages once per day until no more exudate or discharge is present. At that time, you may be ready to move on to step two.
Step Two: Protect
These bandages provide sterile coverage and protection with a more flexible layer so that you can move around more comfortably as your incision continues to heal. By the time you reach step two, your incision should be on its way to healing up, and not producing any discharge. This bandage is made with a polyurethane hydrogel patch, which helps keep your wound protected and moist as it continues to build protective scar tissue and heal. These materials are also anti-adhesive, which allows for easy removal.
It is recommended to change your step two bandage once per week, as long as no concerning signs or symptoms arise. The outer layer is waterproof and can be used for showering and light exercise, but it is recommended to avoid swimming and change the bandage after excessive sweating.
Step Three: Restore
Step three is not sterile and is only intended for use after your incision has fully healed. It's not covered through insurance and is available for purchase here. This dressing is made with polyurethane gel, which serves to soften and mobilize scar tissue. Scar tissue can be sensitive and restrictive, so softening your c-section scar is about more than just looks.
Polyurethane gel, similar to silicone gel, has a moderately adhesive quality that sticks slightly to your skin. This creates tension across the surface of the scar, which encourages your scar to move with you throughout the day. Over time, this consistent and gentle input will help your scar soften and reduce lingering sensitivity or pain. It is recommended to use these gel dressings continuously for 4-6 months, or until the desired changes have taken effect.
Whether you choose to use the step three bandages or not, it's also helpful to touch and gently massage your scar once it's fully healed. Scar massage can help soften the structure of the scar tissue so that it moves with you more easily, reduce sensitivity, and help your body reconnect with the tissues in the surrounding area. If you find this to be particularly uncomfortable or painful, check in with your healthcare provider and a postpartum physical therapist for some individualized guidance.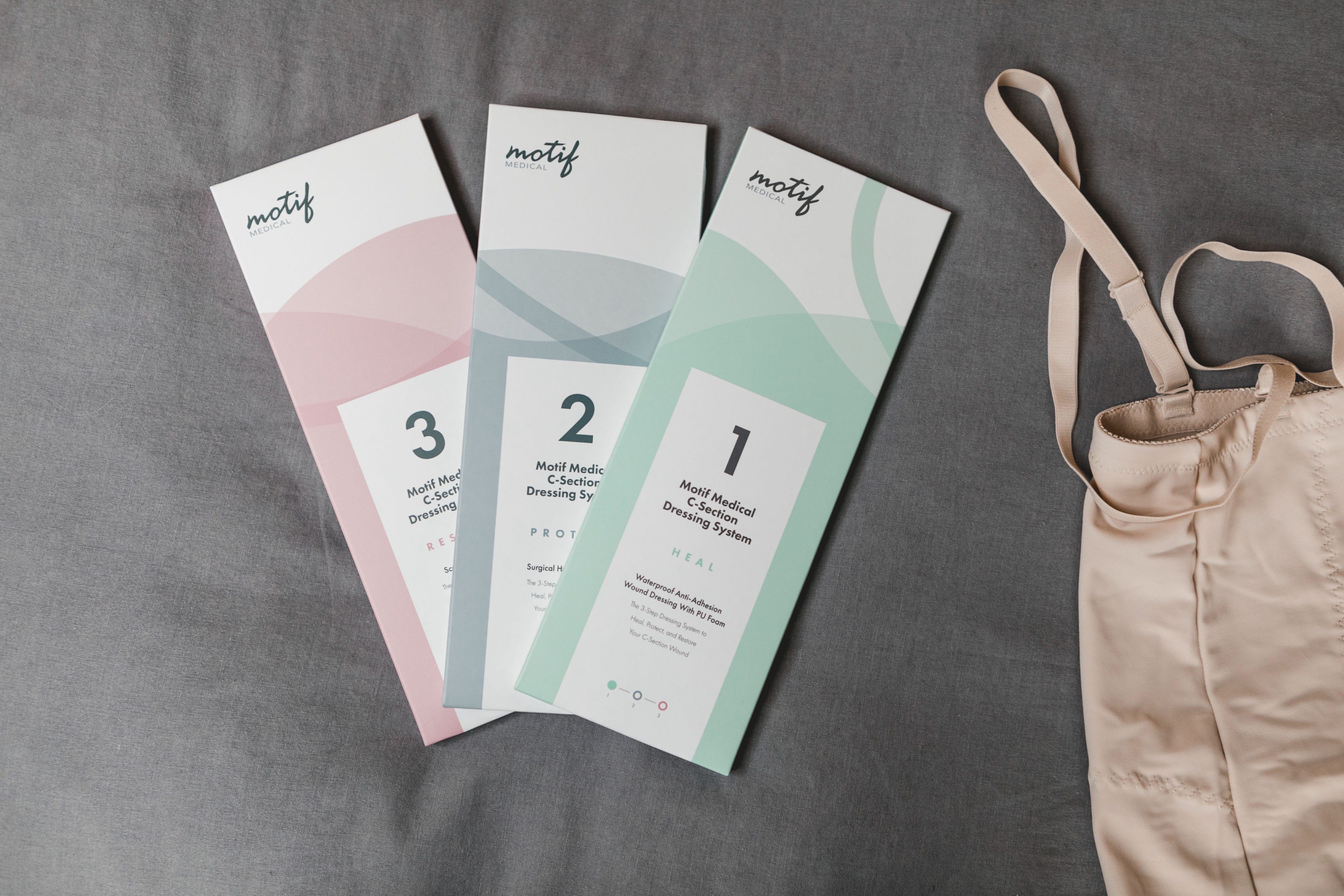 The Motif Medical C-Section Bandage System may not make postpartum recovery completely effortless, but it will help you keep your incision healthy and help you stay a bit more comfortable as you heal. A supportive and comfortable bandaging system also makes it easier to use other postpartum recovery tools, including a postpartum compression garment. These provide gentle compression and lift to your whole body, and can greatly improve your comfort as you move around postpartum after a c-section birth.
Check with Aeroflow Breastpumps to see if steps one and two of the Motif Medical C-Section Bandage System is covered through your insurance!