I'm an on-the-go mama and even though I have all the breastfeeding accessories out there for my every need, I needed something simple to take with me so I could pump anywhere. Then I purchased a manual breast pump and it was a game changer.
Medela Harmony Manual Breast Pump
When I first showed my mom my Medela Pump-In-Style electric breast pump she was in awe. She was so interested in how it worked and told me that us mamas are lucky because when I was a baby all she had was a manual breast pump (and not even the advanced ones we have today). She then brought it up to my attention that I would probably need a manual pump as well though because of how much I travel. Knowing that mom is always right, I decided to buy one and try it out for myself. I purchased the Medela Harmony Manual Breast Pump and I'm in love. It has a two-phase system where you can pump one side faster for stimulation to get the milk flowing and then switch to the other side or long, slow pumps for fast expression. The handle also swivels so it's extremely easy to move it around when your hand gets tired in one position or if you want to use the other hand. It's extremely affordable and all the parts are the same from my Medela electric pump so nothing else is needed.
Pump Anywhere!
Now that I have a manual breast pump I can pump anywhere and everywhere. It's not only great for traveling but also when you're running errands or going out with some friends. I knew I was truly a mom when I went to a concert with a breast pump in my purse. I make sure the pump is clean and then put it in a small bag (I use the cloth bags that my pillowcases come in from Target) and when I'm done I just put all the pieces back in the bag until I can wash them or use the Medela Quick Clean Wipes. Not to mention it is so quiet that no one can hear you pumping. I have literally pumped in the back of an Uber before (don't judge me).
Quick & Easy
Every time I use my electric pump it's a whole process and I'm pretty much stationary until I'm done. With my hand-held pump, I just put a few pieces together and can walk around while pumping. Even though you do have to pump it with your hand, it takes no time at all to drain each breast. The cleanup is just as easy. Since you're pumping right into your bottle there are only two small pieces to clean. I also like that if my electric pump stops working for some reason that I have a manual backup. Even though I still have my electric pump and use it with my hands-free bra, I'm in love with my manual pump. It is one of the most used breastfeeding accessories that I've bought and is a great addition to my electric pump. Pumping on the go has never been easier!
Information provided in blogs should not be used as a substitute for medical care or consultation.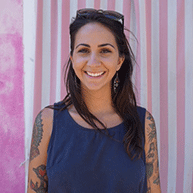 Nadia is a new mom and runs a blog, Wander & Dwell, featuring articles on motherhood and more. Being a modern mama herself she loves to share her experiences and tips on how to raise a kid in this new age. Find her on Instagram @wander_and_dwell.