If you're a new or expectant mother and diving into the world of breastpumps, you are going to hear a lot about Medela. From manual breastpumps to hands-free double electric breastpump options, Medela has it all! Widely known for their patented 2 Phase Expression technology, Medela is an industry favorite when it comes to quality and comfort. Their patented technology helps express more milk faster, allowing your pumping experience to fly by with ease. With so many options available to you it can be confusing as to which breastpump you will need so let us tell you all about Medela!
Medela 2-Phase Technology
Medela breast pumps sport innovative features such as 2-phase technology to better mimic an infant's natural suckling pattern and make it easier for mather's to express breast milk. This evolved as a result of Medela taking the time to observe how babies breastfeed to enhance their products.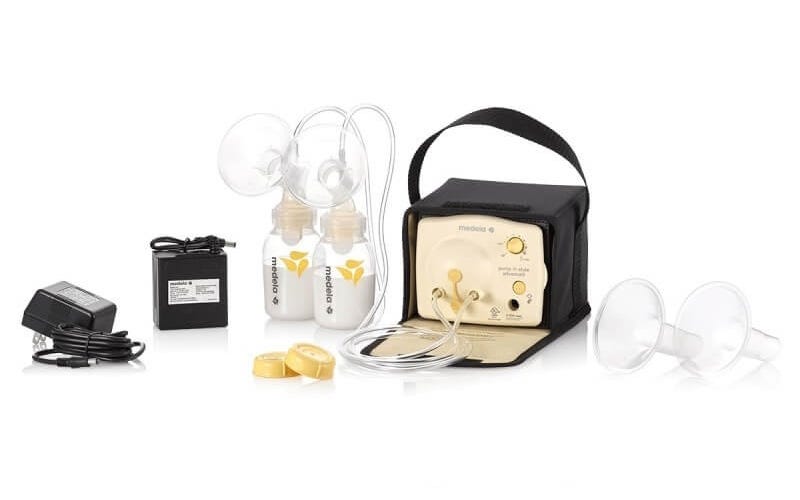 While researching this matter, Peter Hartman was able to determine that babies breastfed in two phases:
Babies nurse more rapidly, yet gently, in the beginning, to initiate the release of breast milk to help it start expressing. This is known as the stimulation phase.

Then once the milk begins to flow, babies tend to nurse slower and deeper in order to express more milk in a faster manner.
This research led to the development of Medela's 2-Phase Expression Technology, with the "Stimulation mode" and "Expression mode." These allow your Medela pump to provide the following benefits:
More milk - 2-Phase Technology allows for more milk to be expressed faster, allowing you to have more free time to get stuff done!
Ease & comfort - because 2-Phase Technology mimics your baby's natural suckling pattern, Medela breast pumps are often considered to be more comfortable and easier to use.
MyMedela Breastfeeding App
Keeping up with your baby's needs can be a little difficult, especially while you're also recovering from delivering them. Their eating habits, diaper changes, and more all need to be kept up with, so why not use the game-changing MyMedela app to help? It's currently compatible with the Medela Sonata, the brand new smart breast pump and is available for both Apple and Android phones.
The MyMedela mobile app can:
Track when your little one last ate, how long they nursed, and how many ounces you pumped, or bottles your baby has had for the day.

Track how many wet and dirty diapers your little one has had to ensure they're staying hydrated and eating enough.

Time your breast pumping sessions.

Track your baby's sleeping habits

Log your baby's height and weight.

Provide educational breastfeeding tips from professionals.

Motivate and assist you with your breastfeeding goals.

Measure your confidence to help assess your pumping strengths and weaknesses with the ups and downs with breastfeeding.

Personalize your experience with adorable photos of your baby!
Medela Breast Pump Warranty
Know that your Medela warranty is only valid if you receive your breast pump from Medela or a trusted supplier like Aeroflow Breastpumps. The standard Medela breast pump warranty covers the motor for one year and 90 days on parts and accessories. In the event of a defect, Medela will repair or replace the breast pump without charge for repalcement, parts, or labor.
Be sure to register your breast pump on Medela's website as soon as you receive it.
If you find that your Medela pump is having a few issues, like poor suction, problems with charging, or an expected dip in milk supply. Contact Medela customer service. Chances are you'll find a video on how to correct the issue.
If not, you'll need to give Medela's customer service a call at (800) 435-8316.
Medela Breast Pump Upgrade Options
Are you looking for some cute Medela accessories to go with the pump you received through insurance? Like a cute carry bag or cooler set? Unfortunately, most insurance plans only cover what's considered to be medically necessary, so they don't pay for additional accessories like a storage bag, freezer bags, etc. However, the good news is that you can pay a nominal fee out of pocket to cover everything you need with the Medela breast pump upgrade options!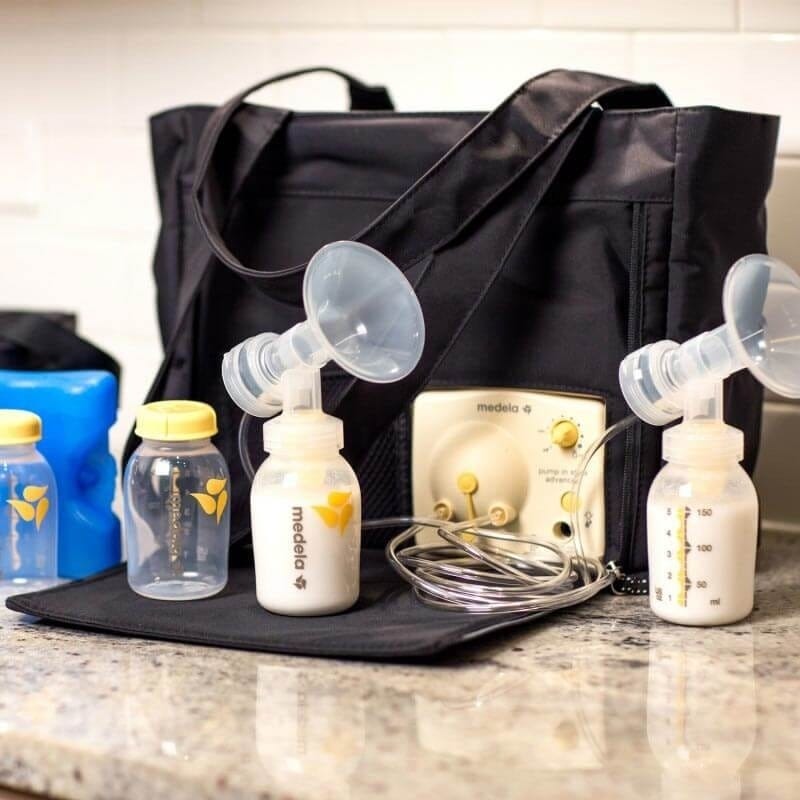 Medela Pump In Style Advanced On The Go Tote
The Medela Pump In Style Advanced On The Go Tote is one of Aeroflow Breatpumps' most popular Medela breast pump upgrade options. In addition to the electric breast pump with its patented 2-Phase Expression Technology, it also comes with a sleek black tote bag and a freezer bag with a contoured ice pack to store your milk when you're on the go. The pump also comes with a battery pack that plugs into the pump so you can pump wherever, whenever.
Medela Pump In Style Advanced Backpack
Medela's upgrade package also offers a backpack option with the Medela Pump In Style Advanced Backpack, which is perfect and comfortable for mamas on the go. Ditch lugging around a diaper bag for this backpack upgrade option that that comes with four breast milk storage containers that can easily be stashed in the cooler bag with an ice pack to keep your milk cold for hours on the go. The included battery pack makes pumping away from home super easy!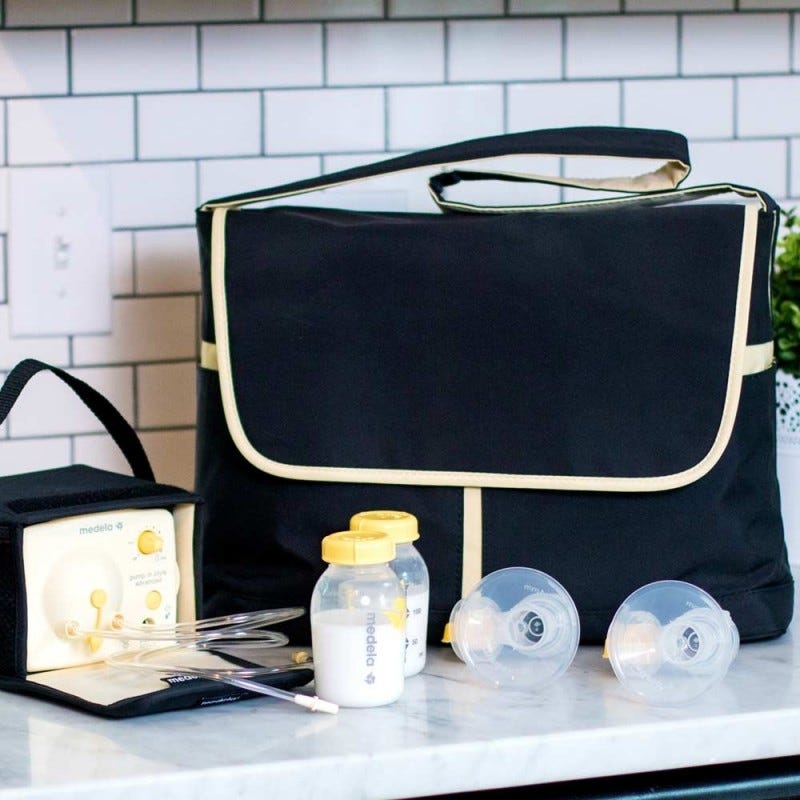 Medela Pump In Style Advanced Metro Bag
If you're interested in more of a shoulder bag, check out the Medela Pump In Style Advanced Metro Bag! It's a stylish option to help you forget the old fashioned mom look for super chic instead. Plus, it was a removable plastic workspace and mesh storage bags to keep you organized while on the go.
Medela Freestyle
Another favorite breast pump upgrade option is the Medela Freestyle. It's the only Medela upgrade with a built-in rechargeable Lithium-Ion battery. It only weighs 3 pounds and can be clipped on your side, allowing you to be hands-free for multitasking!
Qualify Through Insurance with HSA, FSA Upgrade Benefits
Regardless of the Medela breast pump and upgrade option you choose, you can't go wrong! Just let Aeroflow Breastpumps take care of all the hard work for you! Get started with our online qualification for to see if your insurance will cover your breast pump. Also, remember that HSA and FSA accounts can be used to pay the difference for upgrades, so you can get everything you need for the ultimate pumping experience at an incredibly low cost.