Many first-time moms assume that because breastfeeding is "natural", it will come easily to them. But breastfeeding is a totally new experience for you and your baby, and there can be a learning curve. Luckily, there are trained professionals who can help! Consultations with a Lactation Consultant are covered by most insurance plans under the Affordable Care Act (ACA), so many new and expectant mothers will be able to tap into this resource for free.
Here's what you need to know about Lactation Consultants before you begin your breastfeeding or pumping journey.
What exactly is a Lactation Consultant?
A lactation consultant is a medical expert who helps you plan, prepare for and troubleshoot any issues you're having in regards to breastfeeding and pumping. You may also see them referred to as International Board Certified Lactation Consultants, or IBCLCs. An IBCLC has been through thousands of hours of additional training and education.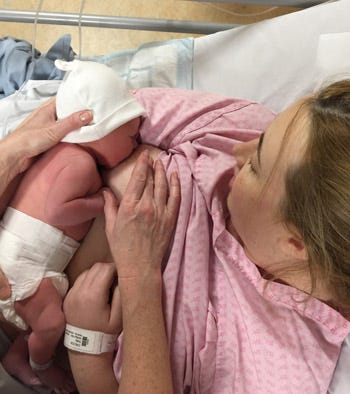 When should I see one?
If you're trying to breastfeed and your baby isn't latching properly, or isn't gaining enough weight, or if you have questions about what is recommended or "normal" -- a lactation consultant can help with all of that. But it can also be hugely beneficial to prepare for those moments when you're still pregnant! Many lactation consultants offer classes for expectant mothers that cover all of the basics of breastfeeding and pumping. These training sessions give you the opportunity to discuss your breastfeeding plan and goals with them before your baby arrives.
Some hospitals will ask if you'd like to speak to a lactation consultant immediately after you've given birth, and if they don't, you can always request to see one. Even if you took the courses during your pregnancy, this is a critical time to establish what works best for you and your baby.
Once you're back at home, it's very common to have additional questions about breastfeeding. Most lactation consultants will happily schedule home visits, and some offer phone or video appointments as well.
How can they help?
These experts have seen it all when it comes to breastfeeding. They can help to provide support, education and technique in response to any pain, anxiety or frustration you may be feeling in the first few weeks at home with your newborn. You may also want to ask them about what kind of breast pump would best meet your needs and have them teach you how to use it properly. They can help you avoid or resolve common issues like clogged ducts (ductal narrowing), mastitis, chapped or sore nipples, and engorgement.
If you're having any specific concerns, they can observe a breastfeeding session and address those -- whether it be about your baby's latch or positioning, your breast milk supply, or determining whether your baby is getting enough milk. They can also teach you how to maintain your milk supply over time, safely store breast milk, prepare for pumping at work.
How do I find a Lactation Consultant?
Breastfeeding can be challenging, but help is readily available! Under the ACA, all health insurance plans (unless grandfathered in) must cover breastfeeding support and counseling. Begin your research for breastfeeding classes and lactation consultants in your area during your second trimester. For more information on where to find a lactation consultant near you, visit our directory.
You may also seek out a childbirth education series that addresses breastfeeding preparedness in addition to what to expect during pregnancy, labor, delivery and postpartum. Taking classes and talking with a lactation consultant can provide the support and education you need to help you reach your breastfeeding goals.