The benefits of breastfeeding are undeniable – from building stronger immune systems and providing optimal nutrition for growing infants, to lowering the risk of certain health conditions in both mothers and breastfed babies. A question that often troubles breastfeeding mothers is how long is "too long" when it comes to breastfeeding their child? Or on the other hand, how long is long enough?

The American Academy of Pediatrics (AAP) and The World Health Organization (WHO) both recommend exclusively breastfeeding for the first six months of age. After that, the AAP recommends supplementing breast milk with solid foods until age one, and the WHO states it's best to continue until two years of age or longer.
Your Breastfeeding Timeline
Breastfeeding for a year, two years, or more, isn't always possible and may not be the best choice for all mothers. Luckily, any amount of time spent breastfeeding will be beneficial. Even a minuscule amount of colostrum is valuable to your child, as it is packed with antibodies, nutrition, fats, proteins, vitamins, and minerals.

That said, studies have shown that the longer a child is breastfed, the greater protection they'll have from illnesses and long-term diseases. Breastfeeding has many health benefits for mothers, too!

There is no defined stopping point for breastfeeding your child. As long as you are comfortable with breastfeeding, your journey can continue for as long as you and your baby desire. Many experts agree that when deciding to stop, slowly and gradually weaning from nursing or pumping sessions can be a good starting point.
Tips for Successful Breastfeeding
Not every breastfeeding journey will look the same, nor will it always come naturally. Here are a few tips to keep in mind when preparing for or beginning your breastfeeding journey:
Be determined and patient with yourself and your baby.
Be as prepared as possible.
Apply for a breast pump through your health insurance.
Set realistic breastfeeding goals.
Nurse or pump often.
Ask for help when needed.
Don't stress about your supply.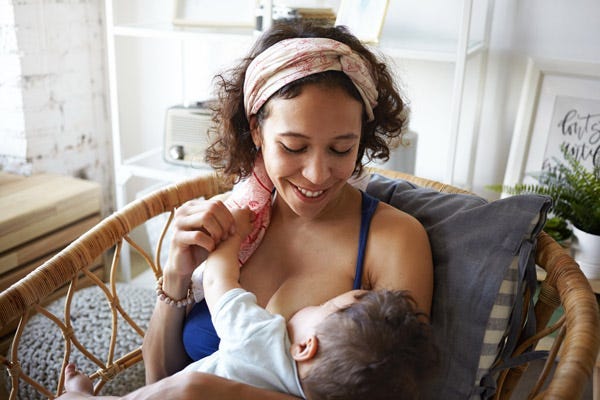 Breastfeeding Support
How long you choose to breastfeed is a decision that is solely yours to make. However, support from your partner, as well as your family and friends, will prove to be invaluable throughout your journey! Here are a few ways mothers can be supported when breastfeeding:
Help to create a comfortable space and relaxing environment for nursing sessions.
Assist in household chores and tasks to alleviate additional stressors such as cleaning, cooking, and laundry.
Prepare ahead of time for the next nursing or pumping session by collecting any necessary items like water, a snack, her phone, a book, blanket, milk containers, lanolin, etc.
Always try to share supportive words or words of encouragement when she's facing breastfeeding difficulties or feeling challenged.
Not only is support from your loved ones essential, but support from trained professionals such as a lactation consultant, IBCLC, nurse, or your healthcare provider can be extremely helpful. Lactation consultants are trained medical experts who assist you in planning, preparing for, and troubleshooting any issues you're having in regards to breastfeeding and pumping. They can answer all of your questions, from how much milk your baby needs and how to know if they're getting enough breast milk, to tips on how to manage engorgement or how to increase milk production. When struggling to succeed with your breastfeeding or pumping goals, they are there to provide ample support and education for new parents.
Breast Pumping
Nursing is not for everyone. In regards to exclusive breastfeeding, the many moms who cannot or choose not to do so can choose to pump instead. Since breast milk is the ideal standard for infant nutrition, pumping can be a great alternative that does not include supplementing with infant formula!

Pumping can be especially valuable to mothers who are planning on returning to work or those who just need more flexibility in their feeding schedules. Many mamas continue to successfully breastfeed their infants with the help of a breast pump.

Not only do pumps assist in prolonging your breastfeeding journey, they also aid in increasing your flexibility and help to maintain your milk supply! Fill out our quick Qualify Through Insurance Form to find out what pumps you're eligible to receive through your health insurance.
Your Breastfeeding Experience
While we encourage every mother to attempt breastfeeding or pumping for at least a year, the most important thing is that her child is being fed. Breastfeeding, at any length, offers amazing health benefits but is a personal choice that is not always best suited for everyone. Give yourself time to practice and learn. And most importantly, remember to do what is best for you, your child, and your unique situation!
Information provided in blogs should not be used as a substitute for medical care or consultation.