What is a hospital grade breast pump?
A hospital grade breast pump is a multi-use rental breast pump designed for mothers with medical issues preventing them from properly breastfeeding their babies, or for mothers of babies with genetic issues in the NICU. The hospital grade breast pump offered to rent through Aeroflow Breastpumps is the Medela Symphony.
What is the difference between a hospital grade breast pump and a standard double electric breast pump?
A hospital grade breast pump is a multi-user rental breast pump with a stronger strength suction, special wavelength, and programming that allows mothers with certain medical necessities to produce the maximum amount of breast milk possible.
A standard double electric breast pump is for personal use and is brand new for use by all breastfeeding mothers. These pumps can be as strong as a hospital grade breast pump, but do not have the same wavelength or programming the industrial strength pumps do. Most mothers successfully pump with standard double electric breast pumps for the entire duration of their breastfeeding journey.
What's the difference between hospital grade and hospital strength?
Hospital Strength is a term used by breast pump manufacturers to convey stronger breast pump suction. It can apply to single-use electric breast pumps, and there are no standards or regulations that define exactly what suction a breast pump needs to be considered "Hospital Strength."
Do I qualify for a hospital grade breast pump through my insurance?
Most insurances do not cover the hospital grade rental cost. Insurance companies that do cover the cost have very specific requirements for their patients to qualify for a pump. A hospital grade breast pump representative can give you more information about your plan's coverage.
What does my insurance require for me to rent a hospital grade breast pump?
If your plan does cover the pump, they will require medical documentation from your doctor with diagnosis codes indicating your medical necessity for the pump. A special type of prescription or letter from your doctor may be required. Each insurance plan requires different documentation. Our hospital grade breast pump representatives can tell you more about your insurance's specific requirements.
Does Aeroflow Breastpumps work with my insurance for a hospital grade breast pump?
Aeroflow Breastpumps only works with a few insurance companies for these special pumps. We will need to determine based on your insurance company's contract with us whether or not we can assist you.
How long will my insurance allow me to rent a hospital grade breast pump?
Every insurance plan is different. Our hospital grade breast pump representatives will reach out to your insurance company to get the specifics about what is required for you to qualify, and for how long you will be allowed to rent the pump.
Can I rent the Medela Symphony out of pocket?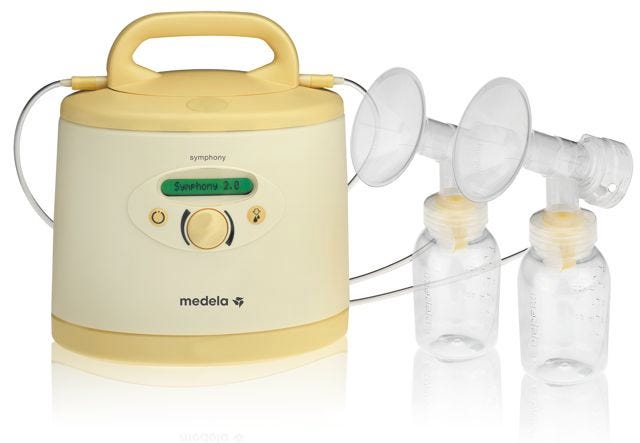 Yes! Renting the Medela Symphony through Aeroflow Breastpumps costs $75 per month. You will also need to purchase the Medela Symphony Double Pumping Kit in order to use your pump. You can ask your insurance company if they would be willing to reimburse you for the cost of your rental.
Does my insurance cover the Medela Symphony as a purchase?
Unfortunately, no insurance company covers the complete purchase of this $2000 breast pump. If your insurance company does cover you, it will be for a rental. Most insurance policies do cover the cost of a personal double electric breast pump.
How can I get more information about hospital grade breast pumps through insurance?
Still want information on a hospital grade breast pump? Contact our hospital grade breast pump specialist at mailto:hospitalgrade@aeroflowbreastpumps.com, or call us at 844-867-9890. If you feel a double electric breast pump will meet your needs, click on the Qualify Now button below.
Information provided in blogs should not be used as a substitute for medical care or consultation.