When you're tethered to a wall for hours each day and unable to multitask, pumping quickly starts to feel like a full-time job! If you're interested in mastering the art of hands-free pumping, we can help. Break free from the pump with the best hands-free equipment!
What is Hands-Free Pumping?
It's exactly what it sounds like. Pumping breast milk without using your hands, giving you the ability to multitask. Whether at work or at home, hands-free pumping is ideal for all types of moms! Getting started with hands-free breast pumping is easy!
High Tech Hands-Free Breast Pumps
New wearable breast pumps untether you to allow hands-free pumping, even on the go. Breast pumps like the Willow and the Elvie work inside your nursing bra. Both breast pumps sense when let-down occurs and automatically switch to an expression mode. One of the biggest differences between the Elvie and the Willow is breast milk storage. Elvie pumps into reusable bottles; Willow has spill-proof milk storage bags.
---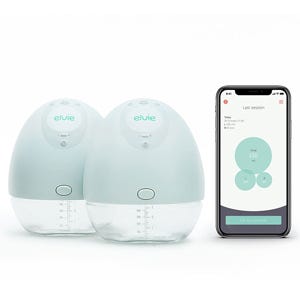 Elvie Pump Double Electric Breast Pump
---
Freemie cups provide a similar wearable solution for moms who already have an electric pump at home. With the Freemie system, milk is collected in the cup instead of a hanging bottle. Simply connect The Freemie Deluxe Cup Set to your compatible breast pump and slip them into your bra.
---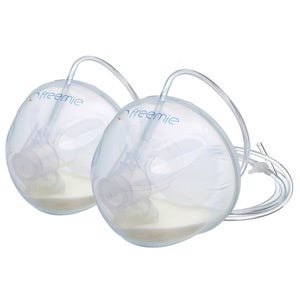 Freemie Closed System Collection Cup Set
---
Hands-Free Bras Or Bustiers
The most popular hands-free pumping options involve the use of a hands-free bra or bustier, like the Medela Easy Expression Bustier. These bras are specifically designed to fit your breast shields inside. They're held against your nipples to collect milk while your hands are free to do something else!
Hands-free bras are relatively inexpensive and comfortably fit under your clothes, so you don't have to undress to pump. They come with multiple colors and options to fit your individual needs.
DIY Hands-Free Pumping
Are you a crafty mama? Have you been all over Pinterest for DIY projects for your infant? Then you can make your own hands free pumping bra at home. There are two easy ways to do this!
1. The Sports Bra Method
Take a sports bra and cut two holes into the fabric in front on your nipples.
Make sure they are smaller than your breast shields but large enough to fit them inside.
Place your breast shields in the holes and enjoy the hands-free breast pumping lifestyle!
2. The Hair Elastic Technique
Take two ponytails or rubber bands (ponytails being the sturdier option) and overlap the edges to loop in the form of figure eight.
Then pull the knot tight.
Place one loop around your bra strap and pull it tight through the other.
Place the remaining loop around your breast pump flange and align it with your nipple.
Nursing bras or pumping shirts can assist with correctly positioning your funnels and holding everything in place for hands-free pumping.
Tips For Hands-Free Breast Pumping Success
If this is your first hands-free rodeo, don't worry, you'll be a pro in no time. Simply remember these hands-free pumping tips!
Have The Right Size/Positioning - Make sure your breast shields are the correct size. If they're too small, your nipples could rub against the sides of the tunnel and become irritated. If they're too big, your areola could be pulled into the tunnel, creating pain. Use our size guide to determine your best fit!
Make sure your nipples are positioned in the center of the tunnel before you start pumping.
Assume The Right Position - Make sure your breast shields or cups are comfortably held to your breasts. If they're too tight your milk flow could become restricted. Avoid leaning on anything that could cause your breast shields to move or that press your shields too hard against your skin. With the Elvie breast pump, you can use the pump in different positions, but if you're using a bra to pump hands-free with a traditional pump, you will need to sit up straight.
Find the most comfortable pump settings to ensure maximum milk production. Do not pump on higher, uncomfortable settings. If you feel slight discomfort then adjust your pump back one level. Relaxation is necessary for proper milk flow.
Make sure your nipples aren't sore and do not have pressure marks, as this could indicate that your breast shields are too tight or your breast pump settings are too high. Slight redness of the nipples is normal. Give your breasts slight massages while pumping to increase milk flow and check to make sure they're completely empty after pumping.
Hands-free pumping should be comfortable. If you experience any pain or soreness switch back to your regular pumping method and contact your doctor, lactation consultant, or breastfeeding specialist for advice.
Information provided in blogs should not be used as a substitute for medical care or consultation.