Does Aetna Cover Breast Pumps?
Aeroflow Breastpumps is committed to helping moms succeed by providing the best breastfeeding products and services at the most competitive rates. We love serving new and expectant moms and encouraging their breastfeeding journey by providing the best breast pumps possible and more through their insurance plans.
Aeroflow Breastpumps is now in-network with all Aetna health insurance plans outside of WA, which means we may be able to help you get the perfect free breast pump for you!
Aetna Breast Pump Coverage
Because of the Affordable Care Act, Aetna covers the cost of a breast pump. Breast pumps are a preventative benefit, so the breast pump is covered at little to no cost to moms (exceptions for grandfathered plans and some self-funded plans).
How Do I Order a Breast Pump through Aetna?
To start the process, please fill out our Qualify Through Insurance Form. To get a breast pump covered by Aetna, you will need a prescription from an authorized physician, midwife, or nurse practitioner. As your breast pump provider, Aeroflow Breastpumps will help obtain the prescription for you.
Each Policy is Different
Your Aetna policy is as unique as you are — each policy is different. You can monitor your claims, deductible, health history and obtain personalized health information by creating a personalized secure member account. You can even go mobile, or pay your premiums online.
Additional Insurance-Covered Benefits
If you fill out our Qualify Through Insurance Form, we will automatically check your insurance coverage for a breast pump as well as maternity compression garments and lactation education! If you get your breast pump through Aeroflow Breastpumps, we will also automatically check your coverage for additional breast pump supplies.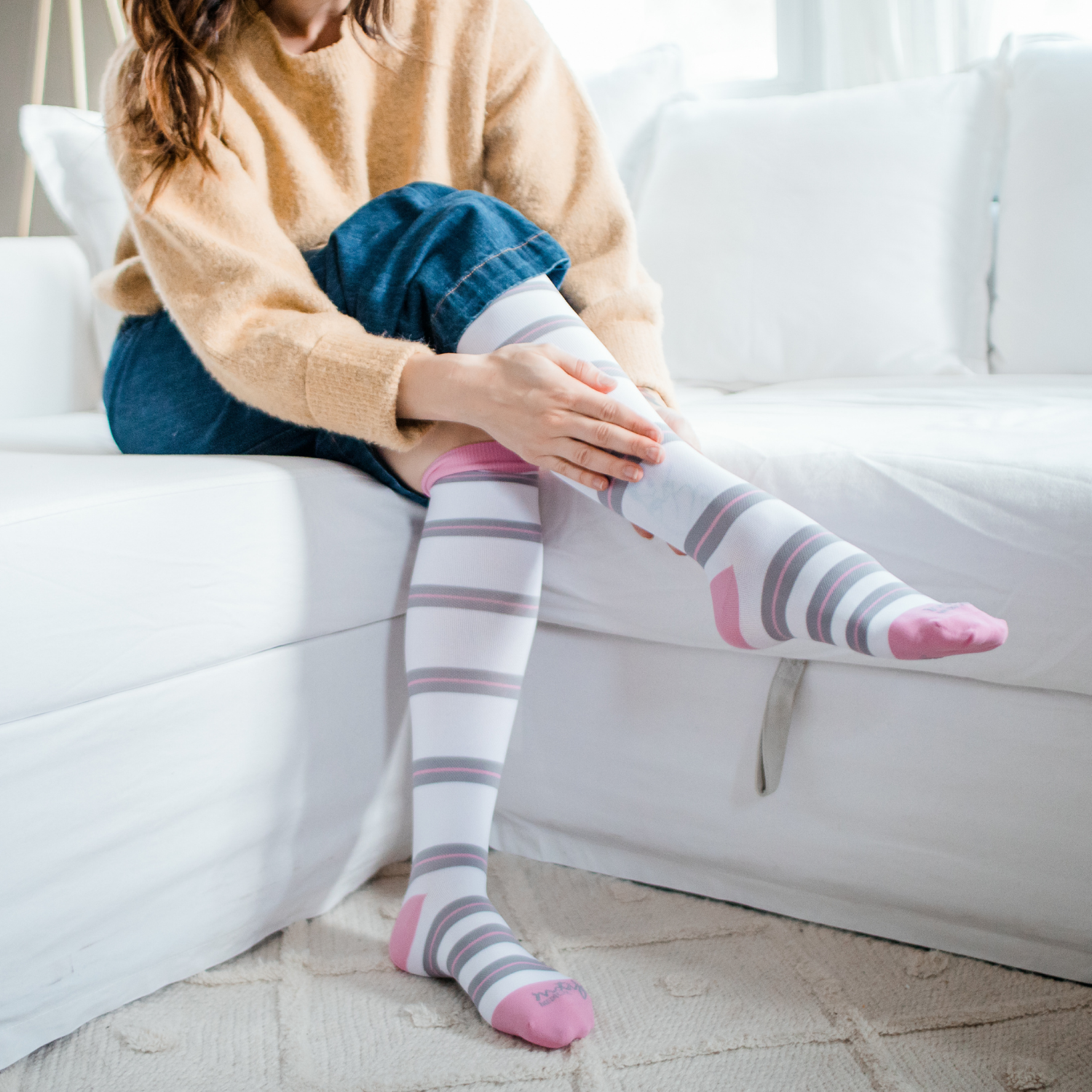 Aetna Maternity Compression Coverage
Aside from covering your breast pump through insurance, Aetna also provides coverage for maternity compression garments. These are medical devices that have been designed by healthcare professionals to provide support, relief, and stabilization for increased comfort during pregnancy and to assist with postpartum healing. Most Aetna plans qualify to receive compression socks through insurance. We will automatically let you know what is covered under your policy once you fill out our Qualify Through Insurance Form.
Breast Pump Supplies
It's important to replace your breast pump parts because over time, residue can build up inside of them and lead to bacteria and mold potentially contaminating your breast milk. Also, as your valves, membranes, tubing or flanges wear out or become stretched or cracked, it can affect the efficiency of your breast pump's suction. Aetna may cover an additional set of breast pump supplies (Double Pumping Kits). This benefit will vary from plan to plan, but if you get your breast pump through insurance using Aeroflow Breastpumps, we automatically check your eligibility and will email you if you're eligible to receive this benefit free through Aetna.
Lactation Support & Education
For some policies, Aetna covers lactation consultations and/or breastfeeding classes. These can both be incredibly beneficial whether you're pregnant and preparing for your baby's arrival or if you're already breastfeeding and could use some help troubleshooting any issues you're having. Again, the specifics of what is covered varies for Aetna patients, but once you fill out the Qualify Through Insurance Form, we will notify you via email if this benefit is available to you. We want to help you get as much breastfeeding support as possible for free through your insurance.
Because Aeroflow Breastpumps is an in-network provider, you can keep your out-of-pocket costs low. Another way to keep your costs minimal is to know your benefit structure before you use it — you can learn how your insurance policy will pay for costs by contacting your member services and inquiring about insurance coverage for services before obtaining them.
About Aetna & Aeroflow Breastpumps
Aetna was founded in 1853 in Hartford, CT, and provides innovative services and benefits to its customers! Aeroflow Breastpumps is a DME contracted with certain Aetna policies, and together, we have been providing excellent customer service and products to moms nationwide.
Should You Buy a Breast Pump?
If your policy is not compliant, a breast pump can be a very costly expense. Aeroflow Breastpumps offers a wide variety of double electric breast pumps, standard electric breast pumps, manual breast pumps and other motherhood supplies at the most competitive rates through our website. You can purchase a backup pump, tubing or a new set of breast milk storage containers for a low price — and shipping is on us for any order of $49!
If you have any additional questions about Aetna insurance guidelines for breast pumps, please contact us at 844-867-9890. We look forward to working with you!
Information provided in blogs should not be used as a substitute for medical care or consultation.