Looking for an easy way to increase lactation? Look no further than these easy, delicious recipes that incorporate Milkful Lactation Bars! into smoothies, muffins and more.

Milkful Peanut Butter Balls
Makes 6 peanut butter balls
Ingredients
2 Milkful Chocolate Banana Nut bars
3/4 cup peanut butter
1/4 cup chocolate chips
1 tbsp sliced almonds

Directions
In a bowl, crumble two Chocolate Banana Nut bars and mix in peanut butter until the mixture holds a shape. Roll the mixture into one inch balls.
In a separate bowl, heat the chocolate chips in 20 second intervals in the microwave. Stir every 20 seconds.
Once chocolate is melted, dip the balls into the chocolate and then into the sliced almonds. Place on a tray or plate lined with parchment paper.
Refrigerate until the chocolate has set and then store in the refrigerator in an airtight container for up to one week.
---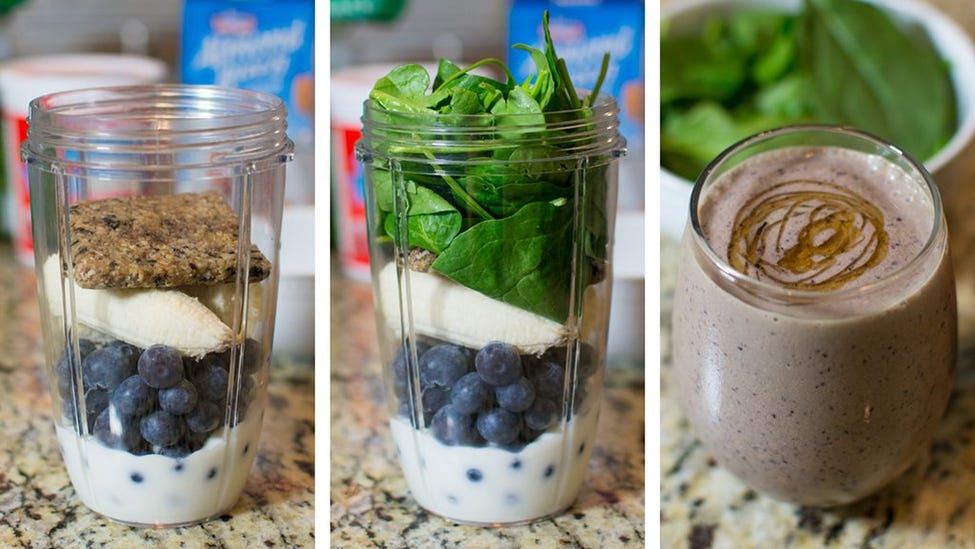 Blueberry Spinach Smoothie
Makes two servings
Ingredients
1 Milkful Blueberry Almond Coconut bar
2/3 cup Greek yogurt
1 ripe banana
2/3 cup frozen blueberries
1 cup spinach leaves
1/2 cup almond or regular milk
8-10 ice cubes
Directions

In a blender, place one Milkful Blueberry Almond Coconut bar, Greek yogurt, banana, blueberries, spinach leaves and milk.
Blend until smooth and then blend in 8-10 ice cubes until the smoothie has reached the desired texture.
Serve immediately or freeze for future use.

---


Muffins Ingredients

1-2 Milkful Maple Walnut bars
Banana Bread Mix or Pumpkin Bread Mix
Additional ingredients may be needed for your mix (eggs, milk, butter, etc.)

Directions

Follow the instructions for making muffins on your banana bread or pumpkin bread mix package.
Combine all ingredients and pour into muffin molds.
Cut up one or two Maple Walnut bars and distribute a 1/3 of a bar between each muffin mold.
Stir to combine ingredients and bake according to your mix.


The provided information should not be used as a substitute for medical care or consultation.
About the Author
Milkful Bars are a healthy and filling snack that also help moms boost their milk supply! Every bar is free from artificial ingredients or sugars.