Ingredients
2.5 cups rolled oats (not quick-cooking)
2 teaspoons ground cinnamon
1 teaspoon baking powder
A pinch of pink salt
1/3 cup maple syrup
1 tablespoon coconut oil, melted, plus extra to grease pan
2 flax eggs (2 tablespoons ground flax seeds + 5 tablespoons water)
2.5 cups milk of choice
2-3 cups mixed berries
Instructions
Preheat the oven to 400°F and grease a 9-inch square baking dish with coconut oil.
Create the flax eggs: mix ground flax seeds and water in a large measuring cup and set aside.
In a bowl, mix together the oats, cinnamon, baking powder and salt. Add the berries and mix.
Add the milk, maple syrup and melted coconut oil to the measuring cup with the flax eggs and whisk.
Spread the dry ingredients in the baking dish ensuring the berries are evenly distributed. Pour the wet ingredients over the oats ensuring the liquid moves down through the oats.
Bake for 30-35 minutes. Let cool, and enjoy immediately or save in the refrigerator for later. Eat alone, or serve with additional milk, berries or nuts!
Why it's great for breastfeeding moms:
Flax helps to increase milk supply and regulate digestion
Oats also help to increase milk supply
Coconut oil is a great source of healthy fat for stable energy levels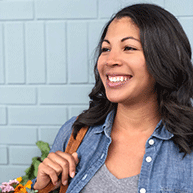 About the Author
Danielle Hinton of Gheeful is a holistic nutritionist and mother to Ellington, seven months. She specializes in nutrition for women during the childbearing years, from hormone balancing and preconception to regaining energy and nutrient status even several years postpartum. Follow her on Instagram @gheeful and on her blog at gheeful.com!





Information provided in blogs should not be used as a substitute for medical care or consultation.