Ingredients
2 cups shredded coconut
3/4 cup coconut oil, melted
1/4 cup maple syrup
3 tablespoons Golden Milk spice mix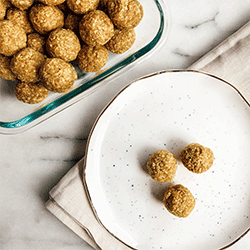 Directions
Many stores carry Golden Milk mix and it is usually a mix of turmeric, black pepper, cinnamon and other spices. For this recipe, I used one made by Oaktown Spice Shop. You can also make your own by mixing 4 tablespoons ground turmeric, 5 teaspoons ground ginger, 1 tablespoon ground cinnamon, and 1 teaspoon each ground black pepper and ground cardamom. Store in a clean jar and use for recipes like this one!
In a large bowl, mix the Golden Spice mix and shredded coconut. Add coconut oil and maple syrup and mix well.
Form bite-sized balls from the mixture and place on a parchment-lined cookie sheet. Note that turmeric stains, so use food-safe gloves if you want to protect your nails!
Place balls in the fridge for an hour to harden, and then store in a glass container for up to a week.
Why I Like This Recipe for Breastfeeding Mothers
This recipe has minimal ingredients and is simple and easy to make!
The curcumin in turmeric is a powerful anti-inflammatory. Inflammation in the body can be caused by several things including stress, sleep deprivation, and injury (such as a c-section, tearing during birth, or cracked nipples from breastfeeding or pumping), and long-term inflammation may be behind many chronic illnesses. Studies show that curcumin can help decrease inflammation, decrease pain and promote healing. I personally included turmeric in several meals and snacks every day postpartum for weeks!
This snack provides a large dose of healthy fats, which unlike many quick-grab snacks, won't spike your blood sugar and lead to low energy later in the day. These fats are also important for making quality breastmilk.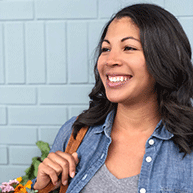 About the Author
Danielle Hinton of Gheeful is a holistic nutritionist and mother to Ellington, seven months. She specializes in nutrition for women during the childbearing years, from hormone balancing and preconception to regaining energy and nutrient status even several years postpartum. Follow her on Instagram @gheeful and on her blog at gheeful.com!





Information provided in blogs should not be used as a substitute for medical care or consultation.