The postpartum period is one of the most physically, mentally, and emotionally challenging periods of a woman's entire life. Mothers who experience a lot of stress and those who have mental health symptoms emerge after having a baby are at risk of having problems with breastfeeding. These problems may include:
a delay in lactogenesis II (breast milk coming in)
low or insufficient milk supply
difficulty with their babies latching on to feed
Newborns are able to sense their moms' stress and tension, and this can also contribute to feeding problems. Breastfeeding difficulties sometimes cause new mothers to feel like "failures," and this can cause stress and the emergence of mental health symptoms, like anxiety or depression. These mental health symptoms can impact breastfeeding, leading to a vicious cycle.
Postpartum Depression, Anxiety, and Breastfeeding
There has been recent awareness that the percentage of new mothers with perinatal mental health disorders is skyrocketing. These include postpartum depression and anxiety, which occur in up to 20% of women in the weeks to months after delivery. Mental health disorders can be exacerbated by sleep deprivation, which is a common experience for new moms, especially those who are experiencing breastfeeding problems.
Triple Feeding
triple feed" her first baby, who was born 5 weeks early. She was latching her daughter onto her breast(s) to attempt to feed, then supplementing by bottle after each breastfeeding attempt, followed by double pumping every 2 hours around the clock. Thus she was getting 15-20 minute pockets of sleep, at most, before having to wake up to start the cycle all over again.
I recently visited my niece who was experiencing a lot of anxiety from being counseled to "
Lactation regimens like this can have detrimental effects on new mothers' mental health due to both significant sleep disruption and the extra stress and anxiety associated with trying to breastfeed and make milk.
Breastfeeding Safe Psychiatric Medications
It's not unusual for mothers who are diagnosed with problems, like depression and anxiety, to have concerns about taking psychiatric medications when they are breastfeeding. Rest assured that all of the commonly used medicines, such as SSRIs, are safe for mothers to take while they are breastfeeding. If you ever have a question as to whether or not a medication is safe during lactation, two excellent resources are the Infant Risk Center and LactMed.
Reducing Breastfeeding Stress
If you are a mother who is experiencing mental health symptoms, the most important thing that you can do for your newborn is to make sure that you take care of yourself. This might mean enlisting help at night so that you are able to get extra pockets of sleep, reaching out to friends and family for help with housework and cooking, or speaking with your OB/GYN or midwife about getting evaluated for a perinatal mental health disorder.
Likewise, if you have a friend or loved one who seems to be struggling after having a baby, please don't hesitate to reach out and let her know you are worried about her and will support her through whatever she is going through. The majority of mothers who experience perinatal mood disorders do go on to have successful breastfeeding relationships with their babies. It's important to remember that adequate support during the fourth trimester can help to prevent the development of both breastfeeding problems and mental health problems.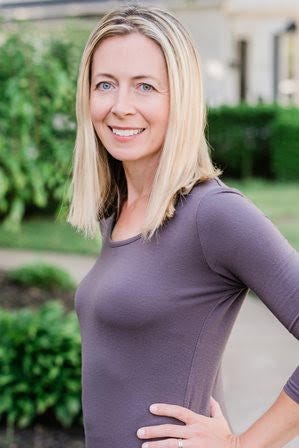 About the Author
Dr. Jessica Madden is a board-certified pediatrician and neonatologist who has been taking care of newborn babies for over 15 years. She is currently on staff in the neonatal intensive care unit (NICU) at Rainbow Babies and Children's Hospital in Cleveland, Ohio. She also provides in-home newborn medicine and lactation support to new mamas and is currently working to become an IBCLC.
Information provided in blogs should not be used as a substitute for medical care or consultation.